Final homecoming for HMS Manchester
Royal Navy Type 42 destroyer HMS Manchester, a veteran of the first Gulf War, returned to her Portsmouth home for the last time yesterday, 17 February 2011.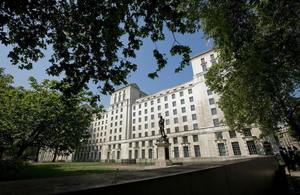 The 31-year-old vessel, which has clocked up 858,882 nautical miles (1.6 million kilometres), is being decommissioned as the ageing fleet of Type 42s makes way for the new, highly capable Type 45 destroyers.
Manchester's final entry to Portsmouth comes after her families' day when dozens of relatives of her 260 ship's company enjoyed a day at sea and learned more about the Navy. In keeping with Navy tradition she flew a decommissioning pennant to mark her final return.
Her Commanding Officer, Commander Rex Cox, said:
As we enter Portsmouth for the final time with our decommissioning pennant flying and families onboard, it is appropriate to reflect on what HMS Manchester has achieved.
The ship has served the Royal Navy for 30 years and has a fine pedigree that includes seeing active service in the Gulf during Operation Granby; more recently she has been an integral part of counter-narcotics operations and hurricane relief in the Caribbean.
"And although she is decommissioning, it is her people that bring the ship to life and, as the ship's company move on to other units, the spirit of the 'Mighty Manch' will live on." Built by Vickers Shipbuilding Group at Barrow-in-Furness, Cumbria, the ship was launched on 24 November 1980 and commissioned into the Royal Navy on 16 December 1982.>
Her first 'action' was a major NATO exercise off the north west coast of Scotland and soon after she escorted Her Majesty The Queen in the Royal Yacht Britannia on a tour of the Western Isles of Scotland.
In 1991 she played a key role in Operation Desert Storm in the Gulf. Along with other allied ships, Manchester provided an air defence umbrella to cover the land offensive into Kuwait. On cessation of hostilities the ship resumed patrols in the Gulf, supporting mine clearance operations and providing post-war reassurance to merchant shipping.
In 2002 while on patrol in the North Atlantic the ship saved the lives of 11 people after their 148-foot (45-metre) cruiser Shiralee sank in the Caribbean.
Towards the end of 2007 Manchester worked closely with the giant US aircraft carrier Harry S Truman off America's eastern coast. The ships were part of a carrier strike group during the two-week Exercise Bold Step.
In December last year Manchester returned from her last deployment, a seven-month stint in the North Atlantic, and earlier this month the ship sailed to Liverpool so her ship's company could pay a farewell visit to her affiliated city of Manchester.
HMS Manchester will be formally decommissioned in a ceremony at Portsmouth Naval Base on 24 February 2011.
Published 18 February 2011