Final group of 3 YORKS soldiers returns from Afghanistan
The last group of soldiers from 3rd Battalion The Yorkshire Regiment (3 YORKS) has returned home from their deployment as part of 12th Mechanized Brigade on Operation HERRICK 16 in Helmand province, Afghanistan.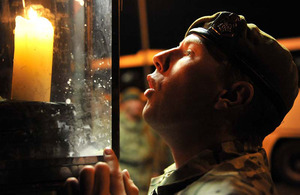 To mark their return to Warminster yesterday evening, the youngest soldier amongst them, Lance Corporal Dale Leadbetter, who was on his first operational tour, extinguished the flame of a candle that had been kept lit outside the entrance to Battlesbury Barracks ever since the first of the battalion's companies deployed back in February.
53 members of the battalion were welcomed home to Battlesbury Barracks by waiting family, friends and colleagues from 3 YORKS.
The Commanding Officer of 3 YORKS, Lieutenant Colonel Zac Stenning, said:
It has been a privilege to lead the battle group for the last six months in Afghanistan. The candle has been lit for nine long months and this event marks the return of the final elements of the battalion to the UK.
I am extremely proud of the soldiers and officers of 3 YORKS and all they have achieved in Afghanistan; the courage, dedication and selfless commitment of the soldiers has been of the highest possible standard.
The support from the families and elements of 3 YORKS who remained behind has been truly humbling and clearly they have been critical to the overall success whilst deployed.
During the deployment 3 YORKS lost nine soldiers. Corunna Company lost six in an explosion.
Sergeant Nigel Coupe, from 1st Battalion The Duke of Lancaster's Regiment, and Corporal Jake Hartley, Private Anthony Frampton, Private Christopher Kershaw, Private Daniel Wade and Private Daniel Wilford, all from 3 YORKS, were killed when their Warrior armoured vehicle was struck by an improvised explosive device in the Lashkar Gah Durai region on Tuesday 6 March 2012.
Private Gregg Thomas Stone, of Burma Company, 3 YORKS, was killed in Afghanistan after coming under fire in the Nahr-e Saraj district of Helmand province on Sunday 3 June 2012.
Sergeant Gareth Thursby and Private Thomas Wroe, both of Alma Company, 3 YORKS, were shot and fatally wounded by a rogue Afghan policeman at Checkpoint Tora in the Nahr-e Saraj district of Helmand province on Saturday 15 September 2012.
3 YORKS will hold a parade through Warminster on 30 November 2012, followed by a church service at The Minster. Later that day a presentation of Afghanistan Operational Service Medals will take place at Battlesbury Barracks.
The following week the regiment will parade through Halifax on Tuesday 4 December and York on Wednesday 5 December.
Published 31 October 2012