News story
Film strengthens ties with Bradford's Armed Forces community
The Armed Forces Community Covenant Grant Scheme has funded a short film entitled 'Bradford's Armed Forces Past and Present'.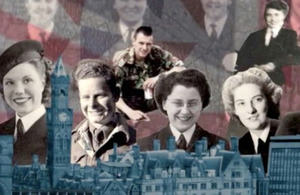 The short film by Bradford UNESCO City of Film reveals some of the inspiring stories of the men and women who served their country throughout the last century. Through a blend of interviews, animation and historical footage their stories come to life, highlighting the impact and importance of the Armed Forces on individuals, communities and a nation.
The film was made possible with funding from the Community Covenant Grant Scheme. The aim of the Community Covenant is to encourage local communities to support the Service community in their area and promote understanding and awareness among the public of issues affecting the Armed Forces community.
David Wilson, Director of Bradford City of Film, said:
This project is a great example of Bradford's UNESCO City of Film working with new young professionals and established animators and film-makers. This film provides a legacy for war veterans past and present using footage from the Yorkshire Film Archive.

The stories cover relationships, skills and memories highlighting the importance of armed forces within communities.
The premiere of the film took place in June to mark Armed Forces Day and is now available to watch on the Bradford City of Film website.
The film will also be added to the Yorkshire Film Archive for future generations to enjoy.
Bradford's Armed Forces Past and Present
Mark Hill, a Bradford Armed Forces veteran featured in the film, said:
Bradford's Armed Forces Past and Present film of soldiers young and old is a great idea; it will help our community better understand what military life was like years ago compared to modern times.

My story of yesteryear will hopefully help young people understand what I went through when I left Bradford at 17 years old to join the Army all those years ago.
The Community Covenant Grant Scheme was established to support the Armed Forces Community Covenant and to fund local projects that bring together the civilian and Armed Forces communities. Thirty million pounds has been allocated to the Community Covenant Grant Scheme and some £5 million has been allocated to projects from the first 6 rounds of bids.
In addition to the film development, recently funded projects include:
plans to replace the Scout and Guide headquarters in Bedale, North Yorkshire, with a new building that can be used by community groups with £159,000 of funding

a play area for the Little Rascals Crèche in the Vale of Glamorgan received £32,888

£28,000 to enable Tidworth Royals Football Club to provide new equipment as it moves to new grounds

£27,000 for Calshot Activities Centre near Southampton to provide highly subsidised places for Service children on residential sailing and adventure weeks during school holidays

£22,000 for a garden office for a community link project in Aldershot

proposals to run activity days at 5 Armed Forces bases in Oxfordshire

Ashcroft Arts Centre in Fareham and a film project involving local schools exploring the lives of servicemen and women

£10,000 given to Royal Wootton Bassett for the town's civic event to commemorate its new royal status
More information on how to apply for a Community Covenant Grant can be found here.
Published 15 August 2013