Press release
Figures confirm record numbers of apprenticeships
More people than ever before are taking part in an apprenticeship, nearly 870,000 people were on an apprenticeship in 2012/13.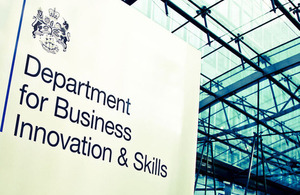 More people than ever before are taking part in an apprenticeship, according to published figures. Nearly 870,000 people were on an apprenticeship in 2012/13 with the gold standard of higher and advanced levels attracting record levels of apprentices.
The data indicates that there were over 1.5 million apprenticeship starts since 2010, half a million of these were in 2012/13.
Skills and Enterprise Minister Matthew Hancock said:
These figures show that a record 868,700 people were in apprenticeships last year, which is up 77% on 2009/10. I am also pleased to see that there were 13,000 people in higher apprenticeships last year, which is double the previous year's figure.

This is good news for the economy, and good news for those getting the skills they need to prosper. I want the new norm for people leaving school or college to either go to university or choose an apprenticeship. By focusing on the quality and rigour that people and employers want from apprenticeships, this will make the vision a reality.
Higher apprenticeships introduced by this government are now at the highest level they have ever been, while the participation in advanced level apprenticeships has increased by 19% this year to nearly 380,000.
Participation for under-19s has declined. This is a result of the renewed focus on higher quality. For the first time, all apprenticeships now involve a job and as such some low quality provision was ended. This particularly affected the 16-18 apprenticeships, as programme-led apprenticeships were concentrated in that age range.
All apprenticeships now routinely last a minimum of a year. That means that while more people than ever are in apprenticeships, the number of starts has not grown. However, removing very short 6 month apprenticeships is a vital part of driving up quality.
To continue the work already being done to focus on the rigour and responsiveness of the system, reforms were announced in October. The reformed apprenticeships will be employer-led and designed so they respond to the needs of industry, meaning each apprentice has the skills required by the sector. They will also focus on quality so the apprentice has to demonstrate their ability through rigorous assessment at the end of their apprenticeship. Each apprenticeship will then be graded on completion – pass, merit, or distinction – to mark the level of achievement.
Notes to editors
The latest provisional figures can be found at http://www.thedataservice.org.uk/Statistics/statisticalfirstrelease/sfr_current/

A full version of the reform implementation document and a list of the companies currently involved in the Trailblazers programme see the Future of apprenticeships in England: Richard Review next steps.

The government's economic policy objective is to achieve 'strong, sustainable and balanced growth that is more evenly shared across the country and between industries'. It set 4 ambitions in the 'Plan for Growth', published at Budget 2011:
to create the most competitive tax system in the G20
to make the UK the best place in Europe to start, finance and grow a business
to encourage investment and exports as a route to a more balanced economy
to create a more educated workforce that is the most flexible in Europe
Work is underway across government to achieve these ambitions, including progress on more than 250 measures as part of the Growth Review. Developing an Industrial Strategy gives new impetus to this work by providing businesses, investors and the public with more clarity about the long-term direction in which the government wants the economy to travel.
Published 29 November 2013