Fighting mental health issues in the military
Fearless and chatty, Staff Sergeant Vicky Charnock brims with confidence, but it wasn't always that way. In 2009, she was diagnosed with depression…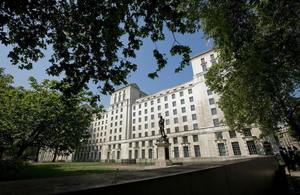 Fearless and chatty, Staff Sergeant Vicky Charnock brims with confidence, but it wasn't always that way. In 2009, she was diagnosed with depression:
I didn't really notice the signs and symptoms for what they were," she admits.

I had been physically ill and had been having problems - I hadn't been sleeping well and was in the grip of low mood, low appetite and tearfulness - but I didn't recognise it for what it was.
SSgt Charnock, aged 33, is a regular soldier who has served all over the world including Bosnia, the Falklands, Germany, Northern Ireland and Afghanistan. Although she had been finding it increasingly hard to cope, her diagnosis came like a bolt from the blue:
I felt embarrassed and ashamed," said SSgt Charnock, "which is why I now want to be involved in this campaign. There was no need to be embarrassed but I didn't think I should be suffering. I hadn't been through any trauma and didn't realise how common depression is.
SSgt Charnock sought medical help after her welfare officer handed her a leaflet on depression:
And that was literally the first I knew of it," said SSgt Charnock. "At that point it was quite upsetting to realise that I was suffering from a mental health problem, but I wanted to get better so I went to my medical officer which kickstarted my recovery.
SSgt Charnock acknowledges that initially she worried about admitting her problems. Following a recent promotion she felt she had a lot to prove, and wrongly feared that coming clean could end her career. The problem was exacerbated when SSgt Charnock resorted to using up annual leave whenever she had a bad day or week, rather than increase her sick record.
Although her memories of that time are hazy, the tipping point was when SSgt Charnock became increasingly tearful and went to her unit welfare officer for help. Prior to diagnosis, SSgt Charnock assumed her low moods were due to prolonged ill-health, which she tried to ignore, becoming increasingly stressed:
I first fell ill two weeks before I came back from Afghanistan, which continued through my post-tour leave, but I was still ill when I arrived at my new unit. I kept having bouts of sinusitis and flu - it just seemed like I had really low immunity.

I just thought that a combination of everything had led to my low mood.
During her treatment SSgt Charnock was prescribed a small dose of anti-depressants and attended weekly sessions with the Army Welfare Service and community psychiatric nurse at the Department of Community Mental Health in Tidworth. There, the nurse taught SSgt Charnock coping mechanisms to control her anxiety attacks, and before long she felt much better:
I learnt to calm down a bit and to recognise my negative thoughts for what they were, and challenge them," said SSgt Charnock. "I'd say, I might think I'm rubbish but what evidence is there?
"Throughout the whole period I was suffering, and even throughout my recovery I believed that my mental illness was caused by physical illness. In hindsight I wonder if it wasn't the other way round."
Depression can stem from a range of factors including trauma, genes or just life's lottery. In her case, SSgt Charnock thinks that low self-esteem and work pressures may have triggered her own bout of depression:
I had a really busy four-year period and I think it all caught up with me. I don't know if it was because I was physically ill, or because I had been deployed heavily in the four years leading up to it, but I don't blame anybody.

I enjoyed my tours, but I wonder if just the tempo of bouncing between deployments, being away from friends and family and routine, started to get me down a little bit.
The Army's mental health campaign is titled 'Don't Bottle It Up', which is apt, because, for many, the Army has a mantra of 'keep a stiff upper lip' running through it like lettering in a stick of rock:
I think even if people realise they are suffering, they are reluctant to get help because of the stigma, which is how I felt," conceded SSgt Charnock.

What I do know now is, that if anybody is feeling like this, they absolutely need to go and speak to somebody, anybody…

Obviously the first place people start is with friends and family, but ultimately if you don't get better then you are going to need some help.
While SSgt Charnock understands a natural reluctance to seek help, she urges readers experiencing regular periods of stress or anxiety to confide in their chain of command, unit welfare officer, padre or doctor.
SSgt Charnock is very positive about her experiences now. Fully recovered, she believes she has emerged stronger than before her illness and has a renewed confidence.
And SSgt Charnock very much believes that if people are afraid to talk about depression then it reinforces stigma:
Mental illness does happen, but you can get through it," she said. "So many people go through it that if we didn't recover we wouldn't have anybody left. That's why I'm doing this," she continued.

I don't want people to feel as embarrassed as I did because they really don't need to. It is common but totally fixable with treatment.

Obviously that year that I spent ill wasn't the best year I have had, and it wasn't the best report I have had, but that is because they can only write about what I have done, and I hadn't done enough to justify a good report. But aside from that there have been no long-term implications on my career.

Even before this campaign," she adds, "I'd made a decision to not be embarrassed if mental illness cropped up in conversation. The more people that talk about it, then that is how attitudes change. In a strange way I'm even glad that I've gone through it and my illness proves that it has had a silver lining.
The World Health Organization's World Mental Health Day raises public awareness about mental health issues. The day promotes open discussion of mental disorders, and investments in prevention, promotion and treatment services. The treatment gap for mental, neurological and substance use disorders is formidable, especially in poor resource countries. See Related Links for more on this.
This article by Lorraine McBride features in the October 2011 issue of Defence Focus - the magazine for everyone in Defence.
Published 10 October 2011