Field Training Unit prepares Gurkhas for Helmand
Soldiers from 1st Battalion The Royal Gurkha Rifles (1 RGR) were among the latest to benefit from the experience of the Field Training Unit at Salisbury Plain in preparing troops for operations. Report by Joe Clapson.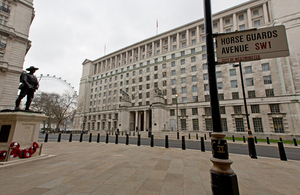 "By failing to prepare, you are preparing to fail," uttered Benjamin Franklin in the 18th century. And the architects of current British Army exercises are in full agreement.
The Field Training Unit on Salisbury Plain is involved in almost every UK-based serial and is responsible for ensuring that soldiers are ready for all operations. But until now it has remained something of an unseen organisation.
Unit commander Lieutenant Colonel Adam Griffiths explained the extremely important role his modest team of 45 staff play in the evolution of servicemen and women:
We design, deliver and develop foundation packages, mission specific and contingent operations training," he said. "The aim is to provide members of the British Armed Forces with the capability to be successful on all of their deployments.
For the Gurkha's, it was the unit's job to coordinate an energy-sapping foundation exercise for 850 "blue force" troops to fight a state army and insurgency while taking account of civil populations and difficult terrain.
Cameras, observer controllers and high-tech instrumentation meant every movement of "players" on the mock battlefield was monitored, with evidence used for feedback during after-action review sessions.
The technology we use here means the people running the exercise can see where every single person is on the ground," said Lt Col Griffiths.
There is also the ability to hear what is being said across the network. But it's not a test, it is a chance to take risks and try out new ideas to see if something works.
The aim of this training is to ensure battlegroups - from headquarters down to soldiers on the ground - are up to speed with core skills and drills but also agile enough to adapt to changing circumstances.
Only this way can they be reassured the Service is fully prepared for future operations. During its current 12-month cycle the Field Training Unit will create scenarios for 20 formations - between 17,000 and 20,000 personnel - to give them the chance to work with relevant assets, including intelligence, surveillance, target acquisition and reconnaissance kit, helicopters and vehicles.
During the final stages of Exercise Wessex Thunder, troops from 1 RGR were required to defeat an opposition force and secure the area, while dealing with all aspects of modern conflict. From downed airframes and injured soldiers to angry civilians and journalists asking difficult questions, the "bluefor" skills and drills were given a stern test.
Methods of attack, casualty evacuation procedures and other actions were recorded, with mobile reviews in the field and at the end of the serial to detail positive and negative feedback. Describing his experience on the exercise, Maj Ed Oldfield, Officer Commanding Information Exploitation with 1 RGR, said:
For the first seven days our company bounced around different exercises, working on planning and convoys, rural and urban environment training, counter insurgency and advance-to-contact drills.

The after-action reviews are a very useful tool because you can't hide from evidence and for the vast majority of the time we could see what had happened. Feedback from the unit is that we have all got a little bit better after each session, which is an encouraging sign.
On the nature of Wessex Thunder, Lt Col David Robinson, Commanding Officer of 1 RGR, added:
It's damned hard war-fighting training, but linked in with a contemporary operational environment as well.

The major difference between this and mission-specific training is that there is a conventional force with an armoured threat and capable systems to match our own - so we're using lessons learnt from conflicts other than southern Afghanistan.

It really is a learning environment and with evidence you can see if you're getting things right or wrong.
At the same time as ensuring the dynamic process of Wessex Thunder went to plan, the field training team was working on ideas for Pashtun Dawn - the UK's largest exercise - and the tri-Service Joint Warrior, both of which will take place later in the year.
Major Rupert Whitelegge, responsible for tactical operations, explained the complex nature of organising realistic packages:
There are a lot of elements involved which come from the most unbelievable corners of the Army, from linguistics to medical specialists to government departments," he said. "We need to be up to speed on all the new kit and skills and drills to ensure the right people get trained properly at the right time.
With operations in Afghanistan continuing and soldiers on constant alert to deploy to other areas of the globe, the group must keep the Army primed and ready for action.
Exercising personnel don't see the organisation or what goes on behind the scenes - it's as if they are in a real environment on operations," explained Lt Col Griffiths.
But away from their gaze, the Field Training Unit researches, schemes and acts to ensure the Army is successfully prepared for whatever situations it may face in the future.
This article by Joe Clapson is taken from the January 2012 edition of SOLDIER - Magazine of the British Army.
Published 18 January 2012