Female team prepares to engage with Afghanistan's women
Last week, twenty-two female Service personnel received training from the UK's Military Stabilisation Support Group (MSSG) and the Stabilisation Unit in preparation for deployment to Afghanistan as part of Female Engagement Teams (FETs).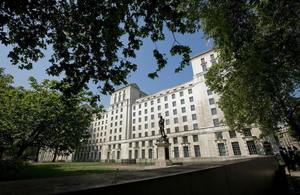 Five civilian experts also attended the course, two of whom will deploy to Helmand as stabilisation advisers in a couple of weeks' time.
FETs are made up of female Service personnel and have been developed to enable the military to better engage with communities in Afghanistan.
In the more conservative provinces many Afghan women are rarely seen by or communicate with people outside their immediate families, especially where the family groups consist largely of men. Therefore, the average male ISAF soldier is unable to freely communicate with nearly 50 per cent of the adult Helmand population. The FETs, by virtue of being female, have the potential to bridge this divide.
Outlining the importance of FETs, Lieutenant Colonel Mark Bower from the MSSG said:
Effective female engagement across Helmand, at the tactical level, will enable engagement of a large percentage of the Afghan population who themselves can influence the decision-makers and ultimately take an active role in improvement of life at the district, provincial and national level.
The course was practical and interactive, allowing participants to practise their communication skills and the use of interpreters. Afghans, including professional actors, were on hand to enact scenarios such as shuras and other meetings.
The women received advice on Afghan culture and specifics relating to Afghan women; if they acted inappropriately the actors were quick to respond, attempting to reflect some of the many difficulties the FETs may come across in theatre.
One of the trainees on the course, Petty Officer Tarrell Lewis from the Royal Navy, said:
Meeting the Afghan women was a really good indicator of what we may come across in theatre and all the feedback they gave us was really helpful. It also helped to build our confidence.
Holly Pawsey, who also attended the training, is shortly deploying to Helmand as a civilian stabilisation adviser:
It's been really valuable supporting the FETs and the overall contribution they can make to the protection of women in Afghanistan," she said. "I've found it beneficial as a stabilisation adviser as I now know some of the FETs going out, and have trained alongside them. I think it was a key pre-deployment course to attend.
This article was provided by the UK Government's Stabilisation Unit.
Published 6 April 2011