News story
Female Officer Cadet wins Sandhurst's Sword of Honour
A female officer has become just the fourth woman in history to win Sandhurst's prestigious Sword of Honour.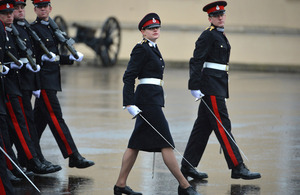 The top accolade from the Royal Military Academy Sandhurst was awarded to Officer Cadet Sarah Hunter-Choat, who received the award during her commissioning at the Sovereign's Parade on Friday 14 December.
The highly coveted Sword of Honour is presented to the best overall Officer Cadet out of 200 in the senior term and is personally chosen by the Academy's Commandant, Major General Timothy Evans.
Each of the 200 cadets have their performance rigorously monitored throughout the year. Then, going into the final phase of their training, the 3 top candidates, termed 'blade runners', are carefully scrutinised then brought before the Commandant for a final interview.
Officer Cadet Hunter-Choat received the Sword of Honour from Defence Secretary Philip Hammond, who represented Her Majesty The Queen at the Sovereign's Parade. It has been 6 years since a female officer won, when Angela Laycock was commissioned into the Royal Engineers in December 2006.
Officer Cadet Hunter-Choat's success follows in her parents' footsteps. Her father Brigadier Tony Hunter-Choat had a long, distinguished military career, starting out in the French Foreign Legion before commissioning into the British Army, while her mother is a former RAF officer.
Published 17 December 2012