Female medics honoured for work with injured personnel
The six women, who were recognised for their work treating injured military personnel and civilians in hospitals in the UK and in the field,…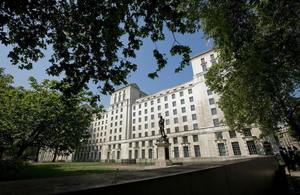 The six women, who were recognised for their work treating injured military personnel and civilians in hospitals in the UK and in the field, were presented with the Barclays Women of the Year Award during a lunchtime ceremony in London yesterday, 17 October 2011.
The recipients of the award, drawn from the Queen Elizabeth Hospital Birmingham, the Ministry of Defence Hospital Unit Portsmouth, and from the Defence Medical Rehabilitation Centre Headley Court, were consultant nurse Debby Edwards, trauma sister Victoria Mulleady, Sergeant Lauren Odell RAF, Surgeon Commander Sarah Stapley, clinical specialist occupational therapist Sarah Winters, and clinical specialist physiotherapist Kate Sherman, who was unable to attend the event.
Birmingham-based medic Sergeant Odell found herself seated next to the Home Secretary and Minister for Women and Equality, Theresa May, at the ceremony. Sergeant Odell was based at Selly Oak before moving over to the Queen Elizabeth Hospital. Dealing with gunshot wounds and blast injuries in military patients alongside her civilian patients is all in a day's work for the trauma specialist and staff nurse.
Speaking after the ceremony, Sergeant Odell said the highlight of the event was having the team award presented by two of her former patients, Captain Martin Hewitt and Private Jaco van Gass of the Parachute Regiment, in an emotional reunion. Private van Gass suffered serious injuries in an improvised explosive device blast in Afghanistan and Sergeant Odell cared for him during his recovery at Selly Oak Hospital in Birmingham.
The pair told Sergeant Odell how appreciative they were of the nursing care she provided and that it was a pleasure to be able to present the award in person.
Sergeant Odell spent four months in Afghanistan in her aeromedical role. Asked how important her work is with injured troops, she said:
It is incredibly important. It gives us a great sense of job satisfaction. Seeing my patients today doing so well … after what they have been through is an amazing surprise. I'm not ashamed to admit I shed a tear!
Sergeant Odell said it had been a shock when she first heard of the nomination from her Officer Commanding:
Winning the Barclays Women of the Year Award is a great honour and we are so touched to be recognised for the day-to-day job that we love," she said.

Our aim is to provide the best care possible for the military and civilian patients whom we treat, and to be nominated means so much, as it was truly unexpected.

The award reflects the work that we all do as a team at Birmingham and to remember that it reflects on all of us, and not just us as individuals," she added.
Sergeant Odell recently completed a four-year posting at the Royal Centre for Defence Medicine, providing acute nursing care for injured soldiers.
Today, 18 October 2011, Sergeant Odell starts a new job at RAF Lyneham's Tactical Medical Wing:
I will be working as a flight nurse picking up patients from all around the world as a medical escort, and providing nursing support on the soldiers' journey back to the UK," she said.
This award gives me added courage and conviction to take on this new challenge and to strive to continue to deliver the care that our troops so rightly deserve," she added.
Baroness Helena Kennedy QC, President of the Women of the Year, said:
These six brilliant, professional and talented women represent the many more personnel who carry out such fantastic work at the Queen Elizabeth Hospital Birmingham and with our forces overseas.

This year marks the 10th anniversary of the war in Afghanistan, and Women of the Year recognises the hard work, determination and outstanding medical achievements of women working in this most challenging of fields.
Sarah Winters, clinical specialist occupational therapist, said:
It is a privilege to be recognised for this award. I am only a small part of a very dedicated rehabilitation team and we all take great pride in the work that we do.
At the lunch, hosted by Sandi Toksvig, four other special awards were presented to exceptional women who have each proved an inspiration to others through their courage, talent and achievements, and included singer Lulu and charity campaigner Katie Piper.
The winners are selected by a diverse cross-section of women represented on the nominating council, comprising prominent figures from the arts, media, science, politics and other major fields, including Maureen Lipman, Sue MacGregor, Mary Nightingale, Doreen Lawrence and Virginia Wade.
Published 18 October 2011