Press release
Feltham lorry driver sent to prison for drivers' hours offences
Driver sentenced to 8 months after pleading guilty to 79 offences of creating false records.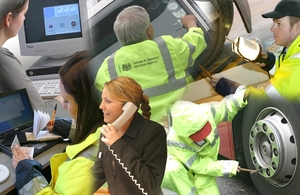 A Feltham truck driver has been sentenced to 8 months in prison for abusing drivers' hours regulations.
Following an investigation by government road safety agency VOSA, Mr Jasvinder Arora, of Hanworth, Feltham, pleaded guilty to 79 offences of creating false driving hours records at Ipswich Crown Court on 9 August 2012.
Arora, who traded as Ocean Xpress Logistics Ltd, was involved in general haulage in and out of the port of Felixstowe in Suffolk.
He created false records of the hours he had spent behind the wheel in an attempt to show that he had taken enough rest.
There are strict laws in place to limit the amount of time truck drivers can spend behind the wheel to ensure that they are not too tired.
Arora used 2 methods to make the false records. The first was to create a false name to make it appear as though someone else had been driving. On other occasions he removed the tachograph chart which automatically records the driver's hours.
In his sentencing, His Honour Judge Goodin told Arora:
Driving a large HGV is a lethal weapon in the hands of a tired driver. The regulations ensure public safety and a level playing field.

In your case you were driving for 24 hours and over 600 kilometres over a 24 hour period without proper rest, and another occasion of 18 hours continuous driving.

Despite being stopped and having a warning given to you by VOSA officers you still continued driving and committing offences.
Heather Crucikshank, VOSA's Operations Director said:
Tired drivers are dangerous drivers. Not taking enough rest can lead to serious accidents and that is why drivers' hours rules are in place - to protect road users.

This case highlights the serious consequences of breaching drivers' hour's regulations.
Notes to editors
VOSA is responsible for:
processing applications for licences to operate lorries and buses and registering bus services
operating and administering testing schemes for all vehicles, including the supervision of the MOT testing scheme
enforcing the law on vehicles to ensure that they comply with legal standards and regulations
enforcing drivers' hours and licensing requirements
supporting Traffic Commissioners to help them make informed decisions on operator licensing, vocational drivers and bus registration requirements
providing training and advice for commercial operators
investigating vehicle accidents, defects and recalls
VOSA media enquiries
You should contact our press office if you have a media query or you're a journalist.
Published 10 August 2012