Fela musical debuts in Nigeria
British Council Nigeria and National Theatre, London (NT Live), in association with the British Deputy High Commission, Lagos, organised a screening of the international hit musical Fela! on Sunday 6 February.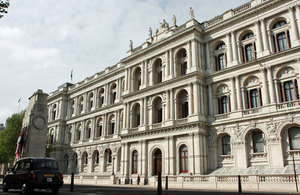 It was the first time that the musical was shown in Nigeria. The production was filmed live at the Olivier Theatre in London, a UK version of the original Broadway musical.
Winner of three Tony awards including best choreography, Fela! celebrates the life of Afrobeat legend Fela Anikulapo Kuti. Through his pioneering music, Fela! unfolds the controversial musician's life as an artist and political activist.
Audiences in Nigeria participated in the global event that is National Theatre Live and saw the remarkable production of FELA.
The event is part of the British Council's work in the Arts; to showcase the best of UK creativity overseas while working with the best of creative talent to develop innovative events and collaborations that link thousands of artists and cultural institutions around the world, and developing skills and leadership in the creative sector.
The National Theatre programme and performances encapsulate the spirit of modern Britain. A Britain which is open, dynamic, connected and diverse. Established in 1963 to be a popular institution appealing to the whole community, the National Theatre continues to be committed to making theatre accessible to as many people as possible. By bringing the NT production of Fela! to the people of Lagos the British Council and the BHDC helped them to continue and expand upon this commitment.
Published 7 February 2011