World news story
Fees for overseas UK Passport applications to fall by 35%
The fees for a UK passport for British citizens applying from overseas countries, including Austria, will fall by 35% from next month.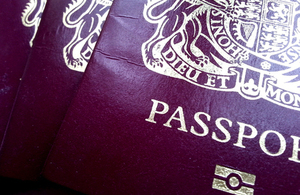 James Brokenshire, Immigration and Security Minister, has announced that from 7 April the passport fee for customers applying for a UK passport from overseas will be reduced by £45 for adults and £28.50 for children.
The new fees are:
Adult 32 page passport £83.00
Child 32 page passport £53.00
Jumbo 48 page passport £91.00 (Adult / Child / Veteran)
The 35% decrease in passport fees is the result of efficiency savings made over the last three years by bringing back the processing and issuing of overseas passports to the UK, including from the former passport processing centre in Düsseldorf.
The new fees will benefit some four million Britons living overseas, including the estimated 10,000 who live in Austria.
If you need a new or replacement passport, go to the Overseas British passport applications page where you can make an overseas application. You need to apply and pay online and send your supporting documents direct to the UK (no longer to the nearest Consulate or Embassy). The turnaround time is four to six weeks, and applications are accepted up to nine months before the expiry of your current passport.
The new fees for overseas applications remain marginally higher than the equivalent fees for UK-based applicants because on average overseas applications take longer – and therefore cost slightly more - to process. This is because it is often less straightforward to establish whether or not an overseas applicant is entitled to a UK passport. Overseas customers will also continue to pay a courier charge in addition to the passport fee.
Published 19 March 2014