News story
FCO welcomes release of Bahraini medical personnel
FCO welcomes reports that 21 medical personnel held in Bahrain since 2011 have been acquitted and released.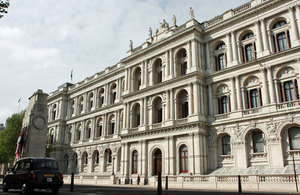 A Foreign Office spokesperson said:
We welcome the news that the Bahraini appeals court has acquitted 21 medical personnel arrested in April 2011 for participating in anti-government protests. The Foreign Secretary and the Minister for the Middle East and North Africa, Alistair Burt, have consistently encouraged the government of Bahrain to uphold human rights standards and implement in full the recommendations from the Bahrain Independent Commission of Inquiry. This decision goes some way to addressing these issues. We expect all outstanding cases before the courts relating to peaceful political protest to be dealt with quickly and transparently, ensuring due legal process is followed.
Further information
Published 28 March 2013