FCO support helps demobilise over 1,800 rebels in DR Congo
UK Government support is helping the United Nations to assist with the voluntary disarmament and repatriation of thousands of armed rebels in DR Congo.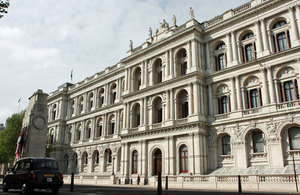 The rebels belonged to the feared FDLR (the Democratic Forces for the Liberation of Rwanda) - a predominantly Rwandan Hutu rebel group in eastern DR Congo. The group, which seeks political change in Rwanda but is based in Congo, is known for recruiting child soldiers and continues to run military schools in their forest stronghold.
Read our case studies (page opens in external window)
As well as fighting the national army, the FDLR has also launched punitive operations against the civilian population, creating confusion and disorder amid brutal violence and looting.
However, since February 2009, successive military operations by the government of DR Congo combined with the wide range of initiatives by the UN's DDR/RR (Disarmament, Demobilisation, Repatriation, Reintegration and Resettlement) team have disrupted and weakened the FDLR, reducing their fighting force by half to an estimated 2,500 combatants today.
"The FDLR continue to play a destructive role and fuel the conflict in eastern DR Congo," said Gregory Alex, Director of DDRRR. "It is one of our top priorities to disarm, demobilize (Congolese) and repatriate (foreign) FDLR combatants, with a focus both on senior officers and the rank and file. The funding from the British government provides crucial support to communications and sensitization efforts in the field, key pillars of DDR/RR strategy."
The British Embassy in Kinshasa has managed a UK contribution of over £370,000 since December 2009, during which time a total of 1,881 FDLR combatants were demobilised. Of these, more than a thousand were Rwandan, with one Burundian and 847 Congolese. All foreign combatants were repatriated to their country of origin and resettled.
The FDLR has repeatedly been singled out by foreign governments and international and national bodies as the major obstacle to lasting peace in the region. The UN is seeking - through strategic communications with combatants in the forest and coordinated demobilisation efforts with over 14 teams located in the key provinces - to maximize the defection rate of the FDLR to the point where the group no longer poses a risk to the population or to regional stability and can no longer reconstitute itself.
UK Ambassador to DRC, Neil Wigan said "DDRRR operations are crucial for achieving lasting peace and stability in the region, and they offer a peaceful alternative to conflict; we expect to see FDLR strength significantly fall again this year due to the continuing high rate of surrender"
Published 25 February 2011