World news story
FCO Permanent Under Secretary Simon Fraser visits Yeshiva in Jerusalem
FCO Permanent Under Secretary emphasises the UK's respect for Haredim in the UK, in Israel and across the world.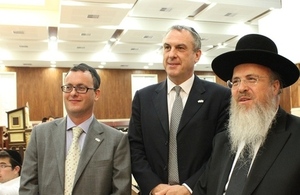 Sir Simon Fraser, the UK's most senior diplomat, visited Ateret Israel Yeshiva on 18 November with British Ambassador to Israel, Matthew Gould, and a senior delegation of UK government officials.
During the tour Fraser visited the study hall, learned about the nature of life at the Yeshiva, and saw hundreds of students learning together. Fraser went on to visit the residence of the Yeshiva head, member of the 'Council of [great] Torah Sages', G'aon Rabbi Baruch Mordechi Ezrachi SHLIT"A.
Rabbi Ezrachi spoke enthusiastically of the great aim of the Haredi public, which is to be able to maintain a 'life of Torah' in Israel. Rabbi Ezrach said "we have no will to rule, and we do not want to battle. All we wish for is to be able to live according to the Torah and to educate our children according to the tradition of the people of Israel over thousands of years."
Fraser said: "I was honoured to meet Rabbi Ezrachi and had a fascinating visit at the Yeshiva. I emphasised to Rabbi Ezrachi the UK's respect for Haredim and their way of life in the UK, in Israel and across the world. We discussed the UK's desire for a deeper dialogue with Israel's ultraorthodox communities, based on a relationship of mutual trust."
The two discussed possible progress on the Middle East Peace Process. Rabbi Ezrachi said that "the Torah advises us to respect all human beings." He added that the Ultra-Orthodox community were grateful to friendly countries such as the UK that respect Israel and the Jewish People.
Published 19 November 2013