FCO Minister statement on Rohingya Repatriation to Burma
Minister for Asia and Pacific Mark Field deeply concerned by reports of premature Rohingya repatriation efforts.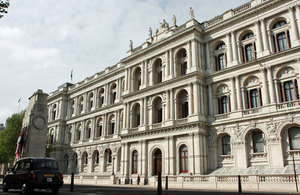 Minister for Asia and Pacific Mark Field said:
I am deeply concerned by the plans to begin repatriation of Rohingya refugees from Bangladesh to Burma in the coming days. The United Nations and other international organisations have been clear that conditions for the Rohingya to return to Burma have not yet been met. Violence and impunity persist in Rakhine and refugees continue to flee Burma.

The UK has consistently emphasized that the repatriation of any Rohingya refugees to Burma must be voluntary, safe, dignified, sustainable and uphold their human rights.

Along with many other nations, the UK recognises the way that the people of Bangladesh and the government of Bangladesh have handled one of the biggest humanitarian crises of our time, despite the great hardships this has placed on their own people.

We call on the Governments of Bangladesh and Burma to uphold the internationally recognised principles of voluntary, safe and dignified return, and urge the Government of Burma to guarantee the necessary safeguards for and protection of any returning Rohingya refugees. Ensuring safe freedom of movement, equal rights, access to health and education services, as well as citizenship for all Rohingya is essential.

We continue to call on the Government of Burma to grant full and unimpeded access for UN and international organizations, as well as international observers, to monitor and assess any future repatriation efforts.
Further information
Published 14 November 2018