FCO Minister Rt Hon. Hugo Swire MP to visit Cambodia
Foreign Office Minister, Rt Hon Hugo Swire MP, will visit Cambodia from 30-31st January.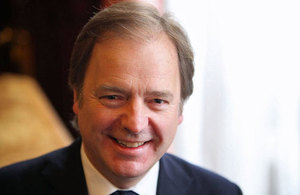 The visit is part of a sustained programme of Ministerial engagement with South East Asian countries to strengthen ties and build new links.
Speaking ahead of his visit, Mr Swire said:
I am very pleased to be making my first trip to Cambodia. Cambodia is a vibrant and exciting country where the UK is keen to deepen engagement. I am here to better understand the current political landscape and challenges that remain in ensuring a peaceful, secure and democratic future for Cambodia. I also want to explore the potential to increase trade links between our two countries as a basis for future economic growth.
During his visit, Minister Swire will call on Prime Minister Hun Sen, Foreign Minister Hor Namhong and leaders of the main opposition party, the CNRP, to discuss the current political situation. He is due to meet UK businesses representatives and visit the Vattanac Tower, which UK designers helped build and meet with Cambodian alumni of UK Universities. Minister Swire will also focus on the work of the Extraordinary Chambers of the Court of Cambodia, of which the UK is a strong supporter, and is due to visit the Tuol Sleng genocide museum.
Note:
This is the first visit by Minister Swire to Cambodia. His predecessor, Rt Hon. Jeremy Browne MP, visited Cambodia in July 2012 and there have been other high profile visits by the Secretary of State for Wales and Lord Green.
UKTI reopened its office in Cambodia in January 2013. Bilateral trade and investment between the UK and Cambodia has steadily grown and is likely to hit USD 1 billion this year.
The UK is a firm supporter of the Extraordinary Chambers in the Courts of Cambodia (ECCC) and is one of the main donors to the Court. To date we have given over £6 million to the Court.
For Minister Swire's bio, please visit: https://www.gov.uk/government/people/hugo-swire
Published 29 January 2014