FCO Minister for the Middle East visits Israel and the Occupied Palestinian Territories
Alistair Burt: 'During my visit I will be encouraging both sides to seize this opportunity and make real progress towards a negotiated two-state solution.'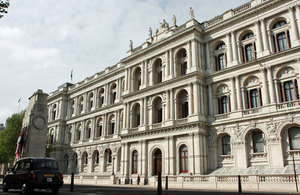 Britain's Minister for the Middle East, Alistair Burt, will visit Israel and the Occupied Palestinian Territories on 7-10 January. This will be the Minister's third visit in the last year.
In Israel, the Minister will meet Deputy Foreign Minister Danny Ayalon and Minister Benny Begin. He will also meet with the parents of Daniel Viflic, a British-Israeli teenager who died following a rocket attack on a school bus in southern Israel last April.
In addition, the Minister will tour the Negev region of southern Israel including Bedouin towns and meet Bedouin high-tech entrepreneurs supported by the Ministry of Industry, Trade and Labour's MATI Business Development Centre.
In a speech at Bar Ilan University, Mr Burt will set out Britain's view of the region following a year of upheaval and sweeping change, as well as the UK's agenda to strengthen bilateral ties with Israel. He will also hold a Q&A session with students.
In the Palestinian territories, the Minister Burt will meet Prime Minister Salam Fayyad and Chief Negotiator Saeb Erekat. He will also visit Fasayel village in the Jordan Valley to see a project funded by the UK government to help the Bedouin community there. At another UK-funded project in Bethlehem, the Minister will join in a football match with some of the children enrolled in the sporting initiative.
Speaking ahead of his visit Alistair Burt said: "Last week the efforts of King Abdullah of Jordan and Foreign Minister Nasser Judeh saw the welcome return to talks by Israeli and Palestinian negotiators. The UK strongly supports this development. During my visit I will be encouraging both sides to seize this opportunity and make real progress towards a negotiated two-state solution."
Published 7 January 2012