News story
FCO Minister for Africa visits South Sudan
Mark Simmonds meets President Salva Kiir of South Sudan and pledges UK support to build peace and development.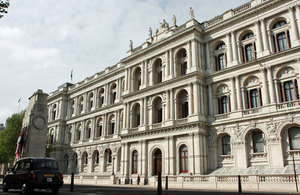 Foreign Office Minister for Africa, Mark Simmonds, visited South Sudan from 12 to 14 November. He had constructive talks with President Kiir and government ministers on issues including security, human rights, economic development and trade.
During the visit the Minister signed a Memorandum of Understanding on returns of foreign national offenders and failed asylum seekers. He also visited Jonglei State, where he saw the effects of insecurity and conflict on communities and the efforts of the UN and other agencies to meet their needs.
Commenting on his visit, Mr Simmonds said:
I am delighted to have visited South Sudan at a formative time in this new nation's history. The UK was the first country to open an Embassy in Juba and remains at the forefront of efforts to support the South Sudanese people in building a more stable, democratic and prosperous society. I reiterated UK support in my discussions with President Kiir and other ministers. I also welcomed recent improvements in South Sudan's relationship with Sudan and stressed the need for concrete progress on resolving all outstanding issues between the two countries, including on the disputed territory of Abyei.
In Jonglei I saw first-hand the challenges that conflict brings, in particular its impact on women and children. We will work with the UN and South Sudan to ensure that security is provided to all communities in a way that upholds the highest human rights standards.
I was also able to discuss the challenges and opportunities for British businesses in the country, and stressed UK support for South Sudan's efforts to diversify its economy and attract investment.
Further information
Follow Foreign Office Minister Mark Simmonds on twitter @MarkJSimmonds
Follow the Foreign Office on twitter @foreignoffice
Follow the Foreign Office on facebook and Google+
Published 16 November 2013