Press release
FCO Minister condemns murders of Israeli soldiers
FCO Minister Alistair Burt condemns the murders of two IDF soldiers and highlights the continued importance of peace process.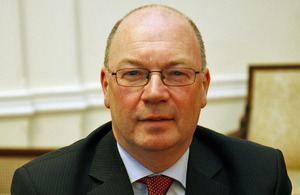 Following the deaths of two Israeli Defence Force (IDF) soldiers in the West Bank over the weekend, Minister for the Middle East Alistair Burt said:
I condemn the murders of IDF soldiers Gavriel Kobi and Tomer Hazan. Our thoughts and prayers go out to their families. All human life, Palestinian and Israeli, is sacred. One of the recurring tragedies of this conflict has been the role played by violent extremists in derailing any progress towards peace. We cannot allow extremists to determine the path ahead. The peace and security that the vast majority of Israelis and Palestinians want and deserve, can only come through negotiations, not through violence.
Further information
Follow the Foreign Office on twitter @ForeignOffice
Follow the Foreign Office Travel Advice on twitter @FCOtravel
Follow the Foreign Office on facebook and Google+
Published 23 September 2013