Press release
FCO Minister concerned by fighting in Northern Lebanon
Foreign Office Minister Alistair Burt calls for immediate end to violence in Tripoli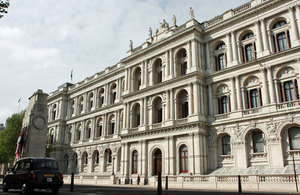 Commenting on the continuing violence in the northern Lebanese city of Tripoli, Foreign Office Minister for the Middle East, Alistair Burt, said:
I am greatly concerned by the fighting in Tripoli in recent days, including the reported deaths of 16 people. I commend the actions of the Lebanese Armed Forces and urge all concerned to take immediate steps to end the violence. This underlines the growing threat to the region posed by the Syrian conflict, and the urgent need for progress on a political transition in Syria.

As I said during my visit to Beirut last month, all parties in Lebanon should abide strictly by the policy of disassociation from the Syria conflict.

I encourage all Lebanese parties to act responsibly and put Lebanon's national interests first. The UK remains fully committed to supporting peace and stability in Lebanon.
Further information
Follow Foreign Office Minister Alistair Burt on twitter @AlistairBurtFCO
Follow the Foreign Office on twitter @foreignoffice
Follow the Foreign Office on facebook and Google+
Subscribe to the announcements feed or email alerts to get our latest news and announcements
Published 23 May 2013