Press release
FCO Minister attends Holocaust Memorial Day commemoration
FCO Minister Alistair Burt represented the FCO at an event to commemorate Holocaust Memorial Day on the Millennium Bridge on 27 January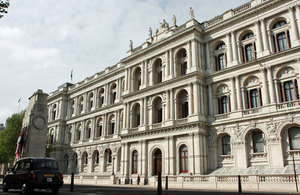 Commenting on the event, Mr Burt said:
"I am honoured to be asked to represent the FCO at this event. The horrific events of the Holocaust fundamentally shaped our history, and are a constant challenge to our understanding of human behaviour. The Government firmly believes that we must keep ensuring that we learn the lessons from history - subsequent atrocities demonstrate the constant risk of such horrors returning. The UK has played a leading role in this internationally through our membership of the International Holocaust Remembrance Alliance and the board of the International Tracing Service, and through our UK Post-Holocaust Issues Envoy, Sir Andrew Burns. We will continue to work with civil society organisations in the UK and with our international partners to improve the ways in which the Holocaust is taught, researched and remembered, and to tackle outstanding issues such as the restitution of confiscated or looted property to its rightful owners or their heirs."
Further information
The International Holocaust Remembrance Alliance (IHRA) is an international organisation of 31 member states dedicated to improving the way that the Holocaust is taught, researched and remembered. The UK will take up its rotating chairmanship in 2013. It brings together both government representatives and civil society organisations.
The International Tracing Service maintains an archive of millions of records from wartime concentration camps and from post-war displaced persons camps in the allied sectors of Germany.
Published 27 January 2013