News story
FCO launches new Academic Technology Approval Scheme website
FCO launches improved online application system for postgraduate students applying for courses that require counter proliferation clearance.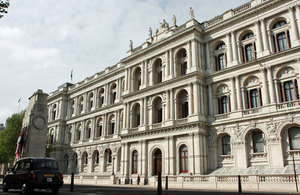 Today, the FCO launched a new website for applications to the Academic Technology Approval Scheme (ATAS). ATAS, which began in 2007, prevents the UK from transferring knowledge and know-how that could be used to build nuclear, biological, chemical and other weapons of mass destruction, as well as the missiles and other means used to deliver them. Under the scheme, which helps the UK to meet international commitments to reduce the proliferation of such weapons, students from across the world must secure formal clearance before joining certain courses at UK universities. With the launch of the new site applicants can look forward to a process that is both clearer and easier to follow.
Minister for Counter Proliferation Tobias Ellwood said:
ATAS received over 20,000 applications in 2014. This is an important upgrade to our systems that will greatly simplify and enhance the process of enrolling at a UK university for many foreign students.

The UK's higher education sector is important to the British economy and it is important that we get the balance right between meeting our international security commitments and supporting our higher education institutions.
Further information
Published 18 February 2015