Press release
FCO deeply concerned by failure to meet South Sudan peace deadline
Foreign Secretary concerned by South Sudan leaders failure to meet deadline to secure peace and form transitional government.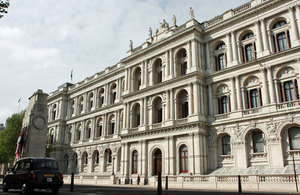 Commenting after South Sudan leaders failed to meet the deadline of 10 August to secure peace for the people of South Sudan, Foreign Secretary Philip Hammond said:
I am concerned that the parties have failed to agree peace and form a transitional government of national unity, as previously agreed by regional leaders.

Despite the mediators' tireless efforts neither the Government of South Sudan nor the SPLM in opposition have engaged in peace talks seriously during the agreed 60 day period.

While peace talks have been on-going for over six months, over a million have been displaced and there is a real risk of famine. I am deeply worried by recent clashes in Maban County that resulted in the deaths of at least six humanitarian workers, and am especially concerned at reports that civilians may have been systematically targeted based on their ethnicity.

Regional leaders have previously called for punitive measures if the parties did not meet their commitments. I call on the Inter-Governmental Authority on Development and the African Union to immediately take appropriate action to bring peace to the people of South Sudan.
Further information
Follow the Foreign Office on twitter @foreignoffice
Follow the Foreign Office on facebook and Google+
Published 11 August 2014