News story
FCO cutting waste and saving energy
FCO awarded Carbon Trust Standard and first public organisation to be certified to the Carbon Trust Waste Standard. Emissions down by 23 per cent.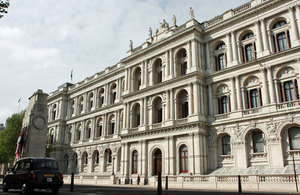 The FCO is the first public sector organisation to be certified to the new Carbon Trust Waste Standard and has also been awarded the Carbon Trust Standard on reducing greenhouse gases.
The FCO now diverts 97 per cent of its waste away from landfill, with almost all waste being recycled or incinerated with heat recovery. The FCO has cut the carbon emissions of its UK operations by 23 per cent between 2009/10 and 2012/13 (excluding emissions associated with FCO Services work for non-FCO customers).
More carbon and waste saving measures are planned. Power hungry data centres which need substantial energy to run and about as much energy again to stay cool will use virtualisation technology to provide the same service with far fewer servers. This could save around 1100t CO2 per year and will save money on electricity. The FCO is also looking at ways to conserve water and use more LED lights.
Owen Richards, the FCO's Sustainable Operations Manager said:
We are delighted to be the first public organisation to have been certified to the Carbon Trust Waste Standard, as well as to the Carbon Trust Standard. We are continuously monitoring utility and travel data to spot waste or find scope for improvement. With technology constantly advancing, there will always be opportunities for the FCO to do its vital work but with a smaller environmental footprint and at lower cost.
As part of the FCO's work to build the conditions for sustainable economic growth, the FCO works closely with the Carbon Trust and other business and academic organisations to enable the global transition to a low carbon economy.
Further information
Follow the Foreign Office on twitter @foreignoffice
Follow the Foreign Office on facebook and Google+
Published 6 March 2014