World news story
FC Schalke v Chelsea FC travel advice
Travel advice for fans travelling to Germany for FC Schalke v Chelsea FC match on Tuesday 25 November 2014.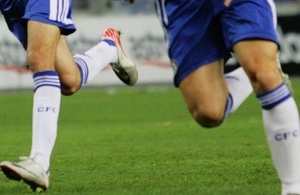 Advice for fans travelling to Germany for Chelsea FC's match with FC Schalke for the UEFA Champions League on Tuesday 25 November 2014.
Date: 25 November 2014
Venue: Veltins Arena - 45891 Gelsenkirchen
Kick off time: 20:45 local time
As well as this advice, check out our travel advice for Germany
Passports, Visas and Insurance
You don't need a visa to travel to Germany, however you should ensure that your passport is valid for the duration of your stay
Remember your European Health Insurance Card (EHIC) but also take out travel insurance, even if you're only going for one night - it could save you a lot of money if you get into difficulties
You don't have to carry your passport on your person while in Germany, however you should have access to it should the authorities ask to see it. You might need it to gain entry to the stadium with your ticket, for example
If you lose your passport, you will need to make an appointment with the British Consulate to apply for an Emergency Travel Document.
Getting to the stadium
The address for the Veltins Area is Arenaring 1, 45891 Gelsenkirchen
The best way to get to the stadium is by tram number 302 from the Gelsenkirchen main station (Hauptbahnhof). It takes approximately 15 minutes.
The stadium is about five minutes walk from the tram stop.
From Dortmund the local Stadbahn train takes approximately 40 minutes.
Your match ticket covers the cost of travel to and from the stadium from anywhere in the surrounding district by tram, bus or train. VVR journey planner
If travelling as part of an organised tour, please contact the club or the travel agency for more information.
At the match
Chelsea FC supporters have been allocated blocks V and W which are located in the lower tier of the south stand.
Access to the stadium can be slow. There will be ticket checks and body searches at the entrance to the turnstiles. To avoid a last minute bottleneck you should get to the stadium early. The turnstiles will open at 18.45.
Supporters will not be permitted entry if drunk and German law permits that persons can be asked to take a breath test at the turnstiles.
In addition to items which would usually be prohibited in the UK, please note the following restrictions at the stadium. Bottles less than 0.5 litres containing soft drinks are permitted. No flags on poles are allowed and banners are restricted to 1m x 2m in size. Food and drink can be purchased with a Knappenkarte card pre payment system, the minimum charge is 5 Euros and any unspent money can be redeemed prior to leaving the stadium.
Tips
As in any other city beware of pickpockets and bag snatchers at airports, railway stations, around the town centre and when using public transport. Only carry what you need and leave spare cash and valuables in hotel safety deposits
Change money at a bank, hotel, or in exchange kiosks – NOT on the street (it is illegal and counterfeit money is punished by a prison sentence in Germany).
Contact the British Consulate-General Dusseldorf
British Consulate-General Dusseldorf
Oststraße 86
40210 Düsseldorf
Germany
Telephone: + 49 (0) 211 94480
Consular opening hours: Monday to Friday: 09:00 to 12.00pm
(Closed Wednesdays)
Please call us in advance to arrange an appointment to obtain an Emergency Travel Document.
For more information please visit British Embassy Berlin website
Emergency services numbers
The police can be contacted on 110 and all other emergency services including ambulance and fire brigade on 112
Further information
Websites for
Published 6 November 2014