Press release
Father and son rescued after boat circles them for 40 minutes
A father and son have been rescued and brought ashore after their boat broke down and their attempt to repair it went wrong.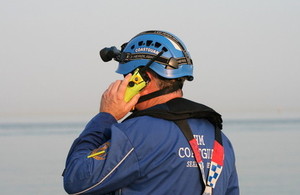 The angling boat was 3 nautical miles off Redcar when it broke down on Saturday afternoon (14 June 2014) and the 2 men began making attempts to repair it. As they worked on the engines, the main engine suddenly sprang into action and threw both of them into the water. The boat circled around the two men in the water (neither of whom was wearing a lifejacket) for 40 minutes before the vessel ran out of fuel. At this point the son was able to clamber back on board and broadcast a mayday message.
The fishing vessel 'Nimrod II', the pilot vessel 'Coatham' and a passing warship responded to the request for assistance, whilst Humber Coastguard requested the Redcar RNLI lifeboat to launch.
The Nimrod II rescued the man from the water and took him to shore, whilst the Coatham stood by to ensure safety. When the lifeboat arrived on scene, it retrieved the other man from the angling boat and took him to shore then returned to the vessel and towed it back to Redcar. Both men have been taken to hospital suffering with hypothermia.
Graham Dawson, Humber Coastguard Watch Manager says:
If your boat breaks down at sea, and repairing it is not a routine job, please call the Coastguard, so that we can get the resources to you to help.
Wear the lifejacket or buoyancy aid that your sport's governing body recommends.
Maritime and Coastguard Agency press office
Press enquiries 020381 72222 (Monday to Friday, 9am-5pm)
Outside these hours, for emergency press enquiries only please dial the above number. You will hear a message giving an out of hours pager number.
Published 16 June 2014