Fatal tram accident in Croydon
Investigation into a fatal accident involving a tram near Sandilands Junction, Croydon, 9 November 2016 - update.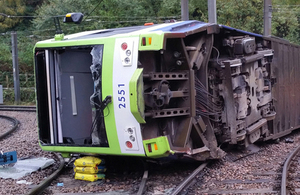 The RAIB investigation into the fatal accident that occurred near Sandilands Junction on the London Tramlink system is nearing completion.
At around 06:10 hrs on Wednesday 9 November 2016, a tram overturned on a bend. Seven people suffered fatal injuries in the accident. A further 51 people were taken to hospital.
Further details of the accident and our ongoing investigation were included in two interim reports which were published on 16 November 2016 and 20 February 2017. Our web update posted on 3 August 2017, explained that we had written to the tramway and other industry parties outlining likely areas to be covered by the final report safety recommendations. Those areas have not changed.
Key recommendation areas addressed to UK tram operators, are likely to be:
provision of active tram protection to prevent serious accidents due to excessive speed at high risk locations
research into active means of detecting the attention state of drivers and intervening in the event of inattention
improved containment of passengers by tram windows and doors
setting up of an industry body to facilitate more effective cooperation between UK tramway owners and operators on matters related to safety performance and the development of common standards
In addition, the RAIB's investigation into how Tram Operations Ltd manage fatigue risk may result in a recommendation.
Our final report will also highlight the importance of ensuring the availability of in-tram CCTV systems and any actions already taken to address the issue. If necessary, the RAIB will also make a recommendation for further improvement in this area.
This list is not exhaustive, but includes some of the important safety issues that are likely to take time to implement, making early consideration vital. Other areas within the scope of our investigation, such as consideration of underlying safety management and regulatory factors, will also give rise to recommendations.
We are encouraged to learn that some tramway organisations have already started work in a number of these areas.
We have drafted the investigation report and are about to start seeking comments from those directly involved. We will then discuss the final report with the families of the people who died. We expect the final report to be published before the end of 2017. However, the publication date remains subject to a number of factors, some of which are outside our direct control.
Our investigation is independent of any investigation by the tramway industry, the British Transport Police or by the Office of Rail and Road.
You can subscribe to automated emails notifying you when we publish our reports.
Published 9 November 2016
Last updated 25 September 2017
+ show all updates
Update to provide current investigation status.

Update to provide current investigation status and likely key recommendation areas.

Updated information and an appeal for witnesses.

First published.