News story
Fatal tram accident in Croydon
From:

Published:

9 November 2016

Last updated:

11 November 2016, see all updates
Investigation into a fatal accident involving a tram near Sandilands Junction, Croydon, 9 November 2016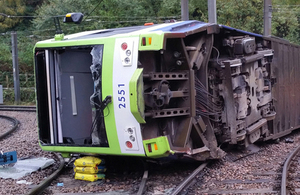 RAIB is investigating a fatal accident that occurred near to Sandilands Junction on the London Tramlink system. At around 06:10 hrs on Wednesday 9 November 2016, a tram derailed on the approach to the junction, and turned onto its side. Seven people suffered fatal injuries in the accident. A further 51 people were taken to hospital.
The tram was operating an 'inbound' service from New Addington to Wimbledon via Croydon town centre. Sandilands Junction is the point where inbound trams from the Beckenham Junction/Elmers End and New Addington routes converge, shortly before they arrive at Sandilands tram stop (to the east of Croydon town centre). Trams approaching from the New Addington direction have to negotiate a sharp, left-hand curve with a speed limit of 20 km/h (12 mph) before reaching the junction. The derailment occurred on the curve and initial indications suggested that the tram was travelling at a significantly higher speed than is permitted.
Further details of the accident and our investigation are included in our interim report which was published on 16 November 2016.
Our investigation is independent of any investigation by the tramway industry, the British Transport Police or by the Office of Rail and Road.
We will publish a final report, including any safety recommendations, at the conclusion of our investigation.
You can subscribe to automated emails notifying you when we publish our reports.
Document information
Published: 9 November 2016
Updated: 11 November 2016
Updated information and an appeal for witnesses.
First published.