News story
Fatal accident involving a track worker, near Newark Northgate station
Investigation of an accident involving a track worker who was carrying out lookout duties near Newark Northgate station on 22 January 2014
This news article was withdrawn on
This item has been moved to the national archive as RAIB has published its report into this accident. See Report 01/2015.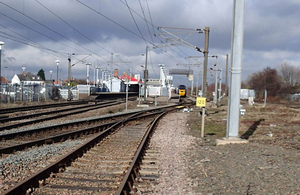 The accident occurred at about 11:40 hrs on 22 January 2014. The track worker was struck by a passenger train and suffered fatal injuries.
The track worker was part of a gang of three engaged in the inspection of two sets of points to the south of the station. The train, a passenger service from King's Cross, was approaching from the south at around 26 mph (42 km/h) and was heading into platform 3 as scheduled.
Our investigation will consider the sequence of events and factors that may have led to the accident, and identify any safety lessons.
Our investigation is independent of any investigations by the safety authority or the police. We will publish our findings at the conclusion of the investigation. This report will be available on our website.
You can subscribe to automated emails notifying you when we publish our reports and bulletins.
Published 10 February 2014