News story
Fatal accident at Frampton Mansell level crossing, near Stroud
Investigation into a fatal accident that occurred on a level crossing at Frampton Mansell, between Kemble and Stroud, on Sunday 11 May 2014
This news article was withdrawn on
This item has been move to the National Archive as RAIB has published its report describing this accident. See Report 05/2015.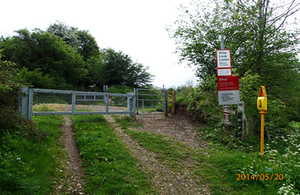 At about 18:40 hrs, a motorcyclist was riding his motorbike across the railway when he was struck by a train travelling from Swindon to Gloucester, and died shortly afterwards.
The crossing, which is over two railway tracks, links an unclassified tarmac road on the northern edge of Frampton Mansell with a track running through farmland towards Sapperton. The unstaffed crossing is provided with simple swing gates, and signs which give warnings and instructions to users on how the crossing is to be used safely. On each side of the crossing are located telephones which are linked to the signalling centre.
Our investigation will identify the sequence of events which led to the accident and any factors which may have influenced the actions of the user. It will also examine:
Network Rail's management of the crossing

the history of the crossing and

the permitted uses of the track and road on the approaches to the crossing
Our investigation is independent of any investigation by the safety authority (the Office of Railway Regulation).
We will publish our findings, including any recommendations to improve safety, at the conclusion of our investigation. These findings will be available on our website.
You can subscribe to automated emails notifying you when we publish our reports and bulletins.
Published 11 July 2014