Faster funding to save more lives when disasters hit
A new scheme will help UK aid partners deliver rapid, essential support when humanitarian emergencies strike - such as earthquakes, floods and famines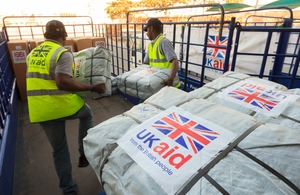 A new funding scheme has been launched by the British Government today to help UK aid partners deliver rapid, essential support when humanitarian emergencies strike - such as earthquakes, floods and famines.
Providing funding quickly saves lives: people are most at risk in the first critical hours of any humanitarian response. The new scheme - known as the Rapid Response Facility - will make sure the UK can allocate funds with speed to trusted partners that deliver high quality results and provide the best value for money.
The new scheme meets one of the key commitments in the Government's response to Lord Ashdown's Humanitarian Emergency Response Review by establishing a facility to provide fast funding to pre-qualified organisations in the first 72 hours following an emergency.
DFID is now seeking applications from UK based organisations to register for the Rapid Response Facility (RRF), which firmly puts the emphasis on delivery, rather than paperwork in the first critical stages of a humanitarian response.
Through the scheme organisations that meet the application criteria will become pre-qualified. This means they are pre-approved for our funds - ready to be invited to make proposals to meet humanitarian needs in the event of a humanitarian emergency.
The Rapid Response Facility will be used as part of the UK Government's response to larger scale or complex emergencies and the funding will cover support during the first six weeks of a response.
The Secretary of State for International Development will make the decision to activate the fund according to humanitarian need. Selected pre-qualified organisations will then be invited to submit light-touch proposals for funding in response to DFID's assessment of need, depending on the organisation's expertise, capability and geographic reach.
Applications from UK based organisations that wish to apply to be pre-qualified for the Rapid Response Facility must be received by midnight on 8 November 2011.
Published 11 October 2011