Family planning: UK to host summit with Gates Foundation
Britain is working with the Bill & Melinda Gates Foundation and partners to host a Family Planning summit in July 2012.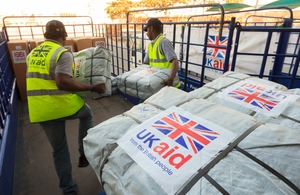 The event will aim to generate unprecedented political commitment and resources from developing countries, donors, the private sector, civil society and other partners to meet the family planning needs of women in the world's poorest countries by 2020.
There are hundreds of millions of women in developing countries who want to delay or avoid a pregnancy but are not using an effective method of family planning. The UK Department for International Development's priority for this year is to support national governments' efforts to increase access to family planning in the poorest countries. This is part of the UK's contribution to the UN Secretary General's Global Strategy for Women's and Children's Health "Every Woman, Every Child."
Increasing access to family planning information, services and supplies has dramatic health benefits for women and children, preventing up to a quarter of maternal deaths. It is also an extremely cost effective investment towards the achievement of the maternal and child health Millennium Development Goals and wider development outcomes. And yet, global attention and leadership on this issue has been lacking.
International Development Secretary, Andrew Mitchell, said:
Every woman should be able to choose whether and when she has children, yet for 215 million women across the developing world this is not an option.

The UK Government is determined to take action. We will work with the Bill and Melinda Gates Foundation and our partners to improve the lives of millions of girls and women in the poorest countries who want to avoid pregnancy and improve their health, education and future chances.

That is why Britain will host a Family Planning summit later this year to help them take charge of their lives for the better.
International Women's Day
This Wednesday, on the eve of International Women's Day, Development Minister Andrew Mitchell is meeting with the Aspen Institute's Global Leaders Council for Reproductive Health and the Bill & Melinda Gates Foundation to discuss what the global community needs to do to make universal access to reproductive health and family planning a reality. Development Minister Stephen O'Brien will speak at an event in Parliament on International Women's Day, Investments in Family Planning, co-hosted by the Aspen Institute and the All Party Parliamentary Group for Global Health.
Why family planning matters - A tale of two mothers
Video: Marie Stopes International
Published 6 March 2012