Family planning: London summit, 11 July 2012
Making lifesaving contraceptives available to an additional 120 million women and girls by 2020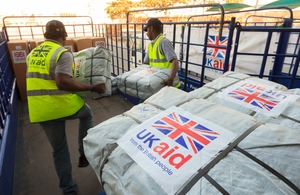 The London Summit on Family Planning has delivered a historic global breakthrough giving access to family planning for 120 million women.
The milestone will help stop 200,000 women and girls from dying in pregnancy and save the lives of 3 million babies across the world's poorest countries.
British aid alone will save the life of a woman or girl in the developing world every two hours up to 2020.
Read more:
Background
On 11 July 2012, the UK Government and the Bill & Melinda Gates Foundation launched a groundbreaking effort to make affordable, lifesaving contraceptives, information, services, and supplies available to an additional 120 million women and girls in the world's poorest countries by 2020.
The summit's vision was to ensure women in developing countries can have the same freedom to access family planning services - without coercion, discrimination and violence - as women in the developed world.
Governments, civil society and communities were called on to tackle the many barriers which prevent women and girls using family planning, such as a lack of contraceptives, lack of money and lack of support from their husbands.
Groundbreaking commitments
The London Summit on Family Planning was an opportunity to generate global commitments to support countries' own ambitions to make high quality, voluntary family planning services more available, acceptable and affordable.
Unprecedented political commitment and resources were called for at the summit, and the return on our collective investments is huge. By enabling 120 million more women and girls to use contraceptives between 2012 and 2020 means over 200,000 fewer women and girls will die in pregnancy and childbirth, and nearly 3 million fewer infants will die in their first year of life.
Real life stories
Video: See the difference family planning makes for mothers in Malawi
Photo story: Follow mother-of-two Mwanasha as she visits a family planning clinic in rural Malawi Photo story: Women speak about the dangers of childbirth and why they want access to contraceptives Film: Hear how access to contraception is changing the lives of girls and women Podcast with Joyce Banda: "I don't think it's right that a woman should die giving birth to another life."
Published 11 July 2012