Family planning: Contraceptives for 27m women and girls
The British government is part of a new partnership announced today at the United Nations that will increase access to contraceptives for 27 million women and girls in some of the world's poorest countries.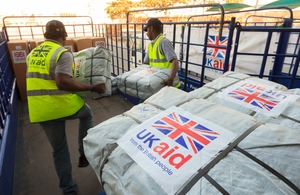 The partnership will avert more than 280,000 babies dying and 30,000 maternal deaths due to better birth spacing and avoiding problems such as preterm births.
At present, more than 200 million women and girls in developing countries who do not want to get pregnant have no access to modern contraceptives and family planning services. By waiting at least 2-3 years between pregnancies it reduces infant and child mortality and benefits maternal health.
The partnership is expected to prevent almost 30 million unwanted pregnancies from 2013 to 2018 and will save an estimated US $250 million in global health costs. 
Responding to the initiative, UK International Development Secretary Justine Greening said:
It's great news that the Prime Minister's family planning summit has led to this agreement, which will give hundreds of millions of people in the world's poorest countries access to family planning and contraception.

It's right that women should have the chance to determine how many pregnancies they have and when, but it's also fundamental to tackling poverty. No country can develop properly when women and girls are dying from unintended pregnancies and when children are dying in infancy.
Working together for women's health
The new partnership is a joint effort between the Clinton Health Access Initiative, the Governments of Norway, the United Kingdom, the US and Sweden, The Children's Investment Fund Foundation, other groups and the German pharmaceutical firm Bayer HealthCare AG, which is the manufacturer of the contraceptive implant.
The implant is a safe, reversible method of contraception pre-qualified by the World Health Organization (WHO), that provides effective contraception for five years. Under the agreement, Bayer is reducing the cost by more than half the current US $18 price of its contraceptive implant, Jadelle, in return for a commitment to assure funding for at least 27 million devices over the next six years.
President of Nigeria Goodluck Jonathan said: 
These contraceptive devices are a very cost effective means of contraception and they are ideal for women in rural areas, who must often travel miles by foot to reach health clinics.
Surveys show that about 600 million women in the developing world use some form of contraception, but only 1-2% of them have these types of long-acting, modern devices. The surveys also show that as many as 20% would prefer them if they were available.
The new partnership should remove some of the barriers to family planning by providing health workers with training and counseling in family planning and ensuring that the now affordable modern contraception will be available. 
Published 26 September 2012