News story
Family Nurse Partnership programme to be extended
The extension of the Family Nurse Partnership will give more young and disadvantaged mothers one to one support to bring up their babies.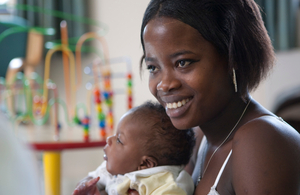 Health Minister Dr Dan Poulter has today announced that 16,000 of the most disadvantaged new parents in the country will be offered tailored help and support from a specialist nurse by 2015. This means many more vulnerable children across the country will get a better start in life.
Initial research in England has found that mothers who receive support from family nurses show positive results, including:
stopping smoking during pregnancy
high levels of breastfeeding
improved self esteem
being much more likely to return to education or employment when their children are old enough
Health Minister Dr Dan Poulter said:
Every child should have the opportunity to lead a healthy and fulfilling life. Family Nurse Partnerships play a major role in supporting children in some of the most disadvantaged circumstances to have the very best start in life.
Around 11,000 families are already benefiting from personalised support from family nurses, but I am determined that we should go further, and that is why we will expand the programme to support 16,000 families by 2015.
A partnership of the following 3 organisations, which have been awarded a £17.5 million contract to take forward this work, will now lead the Family Nurse Partnership programme:
Each organisation will bring its own specific expertise to meet the government's commitment to expand the number of families to benefit from the programme. They will be responsible for national leadership, strategic development and governance as well as education and coaching of family nurses and supervisors.
The Family Nurse Partnership is an intensive, structured, home visiting programme, which is offered to first time parents under the age of 20. A specially trained family nurse visits the mother regularly from early pregnancy until the baby is 2 years old and builds a close, supportive relationship with the family.
NHS England, which plans and pays for health services in England, will lead the expansion work of the Family Nurse Partnership programme.
Published 4 April 2013