Families join HMS Chatham on way home from fighting piracy
The relatives of HMS Chatham's ship's company recently experienced life at sea, joining their loved ones for the final leg of the frigate's journey back from the Gulf of Aden.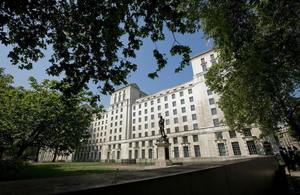 Anyone watching as HMS Chatham left the Naval Base in Gibraltar on the morning of 26 July 2010 might have been puzzled by the number of civilians lining the rails of the ship's harpoon deck.
It's not often that brightly coloured T shirts are seen on the decks of a Royal Navy frigate returning from an operational deployment.
However, HMS Chatham was making use of the 'Parents and Children At Sea' (PACAS) scheme to show sailors' relatives what life is like on board ship.
Over fifty fathers, mothers, sisters and brothers embarked at Gibraltar for the four-day passage back to Plymouth on the last leg of the ship's seven-month deployment countering piracy in the waters in and around the Gulf of Aden.
Able Seaman Jennifer Dick has been in the Navy for less than two years. She was keen to take up the opportunity to get her father on board:
It has been a really busy deployment and it's been hard work but very rewarding," said AB Dick.
We've saved many lives, both by rescuing boats like the Vishvakalyan from Somali pirates and by lifting 23 crewmen off the MV Dubai Moon during a tropical cyclone.

I really feel as if we've made a difference to many people's lives.
Her father, Jim, added:
I've never been on a Navy ship before. I wanted to see exactly what [Jennifer] did on board and what her living conditions were like, especially as this has been her first deployment.
AB David Bell, a warfare specialist, had invited his brother-in-law, David Morgan, on board for the four-day passage back to Plymouth.
I told him before we left that, if there was an opportunity, I'd like to get him on board," said AB Bell.
Mr Morgan thoroughly enjoyed his time on board:
If I was younger, I might easily have joined the Navy and I think I would have enjoyed it," he said.
Also on board were a group of soldiers from the Army Air Corps led by Captain Cameron Hastie:
We were delighted to receive an invitation from the Commanding Officer of our Corps' affiliated ship," he said.

I've brought six young recruits and five of our instructors to see a bit of life on board. It's a great opportunity for us all.
And retired policeman Roger Dimmock joined his son, Guy, the ship's Deputy Marine Engineering Officer:
I'd never been to Gibraltar before, so I gave myself a couple of days to see the Rock before I came on board," said Roger.

I did exactly what I said I wouldn't do by visiting a couple of hostelries in the town!

But, once I came on board, everyone has been extremely welcoming and there is an extensive programme to show us all the capabilities of the ship.
Published 26 July 2010