Families centre stage at Armed Forces Welfare Conference
The full-day conference was attended by representatives from the MOD, charity sector and other government departments. Speakers included the…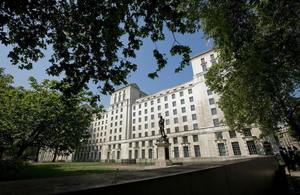 The full-day conference was attended by representatives from the MOD, charity sector and other government departments. Speakers included the Minister for Defence Personnel, Welfare and Veterans, Andrew Robathan, Chief of the General Staff, General Sir Peter Wall, and wives, mothers and siblings of Service personnel injured on operations.
A salient message from the speakers at the conference, whose main themes were support for families and veterans, was the need for a team effort to crack the problems of welfare for personnel, with Mr Robathan asking the gathered representatives to swap ideas and share concerns.
He highlighted improvements in welfare, including the doubling of the Operational Allowance and Council Tax Relief for all personnel on operations, a rise in the number of mental health professionals to deliver support where it is most needed, progress in the Army Recovery Capability, and the launch of the Armed Forces Covenant.
Among the family members of Service personnel injured on operations speaking at the conference was Frances Shine, whose son was injured by an IED in Iraq in 2007.
Ms Shine outlined her struggle with a military maze of red tape at a time of trauma and was pleased to note that vast improvements had taken place, thanking the sterling work of nursing staff at the Queen Elizabeth Hospital Birmingham.
When Des Browne, the then Defence Secretary, visited Selly Oak Hospital where her son was being treated, Frances spoke to him about establishing a support group. He put her in touch with SSAFA (Soldiers, Sailors, Airmen and Families Association), and the Families of Injured Service Personnel support group was set up.
She described how SSAFA were a godsend in navigating the tricky path between agency, Service, charity and family who are the lynchpin in the serviceman/woman's recovery. But she called for more help to tackle the mental scars, and reminded delegates:
Families of veterans will be living with the consequences of Iraq and Afghanistan in 20 years' time.
Recurring themes from family members of personnel speaking at the conference were calls for better family support and more recognition of the role played by families in recovery, and counselling where it is needed.
The conference coincided with the launch of a sibling support group for injured troops. One speaker, Amy Otter, spoke about her seriously injured soldier brother.
She spoke of the toll that caring for an injured serviceman can take on every family member. She said that their family life had changed irrevocably, and sisterly guilt meant she avoided chatting about places that are now out of reach to her brother.
She said that she gained comfort by being able to chat through issues, offload worries and meet other Service siblings at a SSAFA support group.
The Casualty Officer from The Rifles, Lieutenant Colonel (Ret'd) Mike Smith, also spoke at the conference, stating that over recent years his regiment had lost 58 men on operations, leaving behind wives, partners, fatherless children and scores of seriously injured troops.
Lieutenant Colonel Smith emphasised the need for the regiment to act quickly and provide enduring connections with the wider regimental family, including the bereaved, and to maximise the regimental network, so often fundraising stalwarts.
Other speakers included young naval wife Juliette Lynch whose husband is a Royal Marines officer who recently returned from Afghanistan. Juliette talked of the strain of trying to be both mother and father with her husband away on operations and the challenge of adapting to life as a 'single parent'.
She recognised the solace gained from family meetings while spouses are deployed, but called for recognition of the importance of a family support worker that has a 'huge impact on morale'.
Juliette also spoke about how web forums provide another welcome outlet to let off steam, and also spoke of the need for creche facilities and activities to occupy older children to give military wives some welcome respite.
Dawn McCafferty, chair of the RAF Families Federation, said that families are the backbone of the military and pointed out the pride scores of Service families have when they attend military parades.
In return, Dawn called on the Armed Forces to provide practical support for military families dealing with the stress of separation, and priority access to healthcare and school places.
In a post-SDSR (Strategic Defence and Security Review) climate, base closures, returning forces from Germany and redundancies all add to the pressures for thousands of Service personnel and their families. Yesterday's conference underlined the MOD's commitment that they are listening and will tackle the challenges head-on.
Published 2 September 2011