Press release
Fallon: Red tape freeze extended to more small businesses
Business Minister Michael Fallon announces the extension of the freeze exempting small businesses from burdensome new regulations.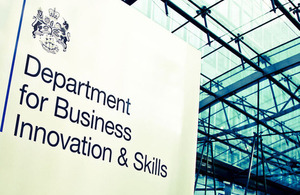 Business Minister Michael Fallon will announce that the freeze exempting businesses with fewer than 10 employees from burdensome new regulations will now be extended to firms with up to 50 staff, and will continue from 2014.
Under a rigorous cross-government assessment process, firms will also be exempted from new regulations if there is any evidence that they will result in disproportionate burdens that could impede growth.
Business Minister Michael Fallon said:
We all want faster growth. As Britain recovers, small businesses are leading the generation of ideas, the creation of new jobs and the shift towards a balanced economy. We cannot afford to hold them back with more rules and regulations.
On my watch, new regulations will now only extend to small businesses if they are essential, justified, and where disproportionate burdens are fully mitigated. And where regulation is not fit for purpose it will be reformed or binned.
The new Small and Micro Business Assessment builds upon and strengthens the current Micro-Business Moratorium, introduced following Budget 2011.
New proposals for regulation will first undergo an initial departmental impact assessment which will be considered by the independent Regulatory Policy Committee, before facing further challenge and scrutiny by the Reducing Regulation Committee, a sub-Committee of Cabinet. If at any stage, unnecessary burdens on small businesses are identified, proposals will only be cleared if an exemption is granted to smaller businesses - or if disproportionate burdens on small businesses are fully mitigated.
Alexander Ehmann, Head of Regulatory Policy at the Institute of Directors, said:
The IoD has argued for a much tougher system of challenge when government is applying regulations to small and micro businesses. We are pleased to see this turned into reality with the introduction of the SMBA. Businesses across the country should welcome this new system, which gives the Regulatory Policy Committee much-needed powers to throw out rules which are unmanageable for the UK's smallest businesses.
John Allan, National Chairman, Federation of Small Businesses, said:
The burden of regulation often falls heaviest on the smallest of firms. This is why the FSB has called for the RPC to have sharper teeth to defend small and micro firms against poorly framed regulation. The small and micro business assessment should help to make future regulation more manageable and proportionate for the smallest firms, and is to be welcomed. This should mean that business owners will be able to devote time to growing their business and creating jobs rather than form filling.
In carrying out their initial impact assessments of proposed new regulation, departments will be required to consider a wider range of mitigating strategies, for example:
providing extra time for small businesses to comply with new regulations, meaning that changes to equipment or processes can be made at a time that makes sense for the business;

simplifying record-keeping requirements for smaller businesses, meaning that those with less staff have to spend less time filling in forms and keeping records compared to larger business;

tailoring advice and guidance so that smaller businesses can quickly find out what regulatory changes mean for them in practice;

varying regulatory requirements such as inspection frequencies or licensing requirements by size of business, to ensure a proportionate regulatory approach.
This is the latest initiative in Michael Fallon's drive to change the culture of government, so that regulation is introduced only as a last resort. Under the One-in, Two-out rule introduced in January, any new regulations must be offset by savings equal to twice the costs they will impose on business.
Yesterday the Prime Minister pledged further backing for small businesses as he announced that all the recommendations made in a recent report by his Enterprise Advisor Lord Young will be accepted. The Government will make it easier for small businesses owners to access the right advice and support to help them grow.
Notes to editors
The SMBA will apply to new regulations that come into force after 31 March 2014. The Reducing Regulation Committee will expect departments to present in their impact assessment clear evidence on any potential impact of the regulation on small businesses and micros, and the effect of any proposed mitigations.

That evidence will be subject to independent challenge from the Regulatory Policy Committee as part of their "fit for purpose" rating system of the Impact Assessment.

The Micro-Business Moratorium was announced at Budget 2011. This introduced a presumption that businesses with fewer than 10 employees, including start-up businesses should be exempt from new regulation.

Lord Young's recommendations included:

Legislating to abolish pre qualification questionnaires (PQQ) on contracts under €200k across the public sector, and setting "single market" principles which suppliers can expect when doing business with the public sector. These principles would simplify and standardise the bidding, payment and advertising of contracts, and would remove the complexity, cost and inconsistency when trying to sell to more than one local authority or public sector body. This would help SMEs further access the £230 billion per year that is spent on goods and services across the whole public sector.
A £30 million Growth Voucher programme to test how best to get support to small businesses in order to encourage more to get specialist help on: expanding their workforce; marketing a business; financial management and growing online. Businesses that use external advice at key stages in their development grow faster than those that do not - but too few are taking this up.
A greater role for business schools in the local economy with the establishment of a new national "Supporting Small Business Charter" and accompanying award scheme to incentivise business schools to help SMEs grow. This will include advising small firms and increasing the flow of highly qualified students and graduates into SMEs. Business schools could also become a key part of the referral process and provision of Start-Up Loans and Growth Vouchers.
Better marketing of government schemes to support new and developing businesses by ensuring they are properly resourced and targeted at the small firms that need them most.

The government's economic policy objective is to achieve 'strong, sustainable and balanced growth that is more evenly shared across the country and between industries'. It set four ambitions in the 'Plan for Growth' (PDF 1.7MB), published at Budget 2011:
to create the most competitive tax system in the G20
to make the UK the best place in Europe to start, finance and grow a business
to encourage investment and exports as a route to a more balanced economy
to create a more educated workforce that is the most flexible in Europe.
Work is underway across government to achieve these ambitions, including progress on more than 250 measures as part of the Growth Review. Developing an Industrial Strategy gives new impetus to this work by providing businesses, investors and the public with more clarity about the long-term direction in which the government wants the economy to travel.
Published 6 June 2013