Press release
Fallon: New approach to regulation will support growth
Businesses invited to help shape 'growth duty' and Regulators' Code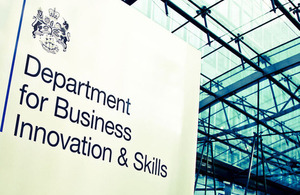 Business Minister Michael Fallon today launched two consultations to re-shape the way regulators work with business, so that upholding standards does not act as a barrier to growth and enterprise.
Businesses and regulators are invited to contribute to the development of a proposed 'growth duty' for regulators - which will require regulators to take into account the impact of their activities on the economic prospects of firms they regulate.
A parallel consultation will seek views on an updated Regulators' Code - which removes uncertainty for businesses by clarifying what they can expect from those that regulate them, including accessible advice and methods of enforcement that are tailored to meet the needs of the business.
There are more than fifty non-economic regulators, with a combined budget of approximately £4 billion and 55,000 employees. The proposed 'growth duty' will ensure that enforcement activity of these regulators, including the Health and Safety Executive, Environment Agency and Highways Agency, imposes minimum burdens that could hold businesses back, while upholding the highest standards of public protection.
The Regulators' Code will replace the existing Regulators' Compliance Code. It will set a clearer framework for how regulation is delivered, and establish what businesses can expect from regulators. This includes advice and other support for compliance, timely responses to stakeholder concerns, clear processes for setting fees and charges and a high standard of professional competency in inspectors and other officers.
Business Minister Michael Fallon said:
Regulators have a vital role in protecting the public and creating a level playing field for competition, but red tape should never restrain hard-pressed businesses that play by the rules from growing and creating jobs.
The quality of information, guidance and enforcement delivered by regulators directly affects the ability of a business to grow and succeed. So I'm inviting firms to help us craft a new settlement that supports enterprise without compromising standards.
Government action on red tape – including through the Red Tape Challenge and tough Whitehall rules that demand all new regulation is offset by ambitious cuts in costs to business - is already expected to save business around £1 billion. Michael Fallon has pledged to build on this success by re-doubling government efforts to reduce the burdens placed on business by unnecessary bureaucracy.
The six-week growth duty consultation will close on 19 April. The eight-week regulators' code consultation will close on 03 May. For more information, or to contribute, businesses are invited to visit: http://www.bis.gov.uk/brdo/publications
Notes to Editors:
1.Red Tape Challenge reforms are already saving business over £155 million per year - with many further savings not yet quantified. Around 1,400 regulations have already been identified to be scrapped or substantially reduced. A second phase of the Red Tape Challenge will launch this spring, giving businesses another opportunity to tell the government where action is most required. Visit www.redtapechallenge.cabinetoffice.gov.uk
2.This year the government replaced the One-in, One-out rule with the more challenging One-In, Two-Out rule - under which departments must find savings worth double the cost of any new regulations on business. Taken together, these initiatives will save business around £1billion by June 2013.
3.Focus on Enforcement reviews examine how regulation is delivered – whether through inspections, advice, and enforcement – not the regulations themselves. The programme's web-site also gives individuals and businesses the opportunity to provide evidence on areas 'in focus' such as, currently, reviews of childcare and care homes. Businesses can also contribute to a wider review of appeals mechanisms operated by national and local regulators. Visit http://discuss.bis.gov.uk/focusonenforcement/
4.Regulators subject to the Regulators' Compliance Code in scope of the growth duty include: Animal Health and Veterinary Laboratories Agency; Architects Registration Board; British Hallmarking Council; Care Quality Commission; Charity Commission for England and Wales; Claims Management Regulation Unit; Coal Authority; Companies House; Council for Healthcare Regulatory Excellence; Disclosure and Barring Service; Drinking Water Inspectorate; Driver and Vehicle Licensing Agency; Driving Standards Agency; Employment Agency Standards Directorate; English Heritage; Environment Agency; Equality and Human Rights Commission; Financial Reporting Council; Fish Health Inspectorate, Centre for Environment, Fisheries and Aquaculture Science; Food and Environment Research Agency; Food Standards Agency; Forestry Commission; Gambling Commission; Gangmasters Licensing Authority; Groceries Code Adjudicator; Health and Safety Executive; Highways Agency; HM Revenue and Customs (Money Laundering Regulations and National Minimum Wage); Homes and Communities Agency; Human Fertilisation and Embryology Authority; Human Tissue Authority; Information Commissioner's Office; Insolvency Service including Insolvency Practitioner Unit; Intellectual Property Office; Legal Services Board; Marine Management Organisation; Maritime and Coastguard Agency; Medicines and Healthcare Products Regulatory Agency; National Counter Terrorism Security Office; National Measurement Office; Natural England; Office for Fair Access; Office for Standards in Education, Children's Services and Skills; Office of the Regulator of Community Interest Companies; Pensions Regulator; Postgraduate Medical Education and Training Board; Rural Payments Agency; Security Industry Authority; Solicitors Regulation Authority; Sports Grounds Safety Authority; Traffic Commissioners; Trinity House Lighthouse Service; UK Anti-doping; UK Sport; Vehicle and Operator Services Agency; Vehicle Certification Agency; Veterinary Medicines Directorate.
5.There are now more than 689 businesses and 100 local authorities operating one or more of 2,256 primary authority partnerships. Primary Authority enables businesses which operate within multiple local authority areas to form a statutory partnership with a single local authority, which then provides robust and reliable advice and coordinates inspections and enforcement. Other councils must adhere to this advice when dealing with the business. Subject to parliamentary process, Primary Authority is set to be extended to cover thousands more businesses operating within trade associations and franchises and there are proposals to expand the number of regulations covered by the scheme.
6.The government is working with partners across Europe to reduce the burden of EU regulation on business. Priorities for making the EU more business-friendly include persuading the Commission to publish an annual statement of the net cost of EU legislation, to help business see what burden of regulation stems from the EU; and making sure that business have an opportunity to influence EU proposals at an earlier stage. Minsters recently announced that tough new rules to end the 'gold-plating' of EU legislation have prevented Whitehall departments from adding additional red tape to EU regulation that is incorporated into UK law.
7.The government's economic policy objective is to achieve 'strong, sustainable and balanced growth that is more evenly shared across the country and between industries'. It set four ambitions in the 'Plan for Growth' (PDF 1.7MB), published at Budget 2011:
to create the most competitive tax system in the G20
to make the UK the best place in Europe to start, finance and grow a business
to encourage investment and exports as a route to a more balanced economy
to create a more educated workforce that is the most flexible in Europe.
Work is underway across government to achieve these ambitions, including progress on more than 250 measures as part of the Growth Review. Developing an Industrial Strategy gives new impetus to this work by providing businesses, investors and the public with more clarity about the long-term direction in which the government wants the economy to travel.
Published 8 March 2013