Falklands veteran becomes RAF paramedic in Afghanistan
An ex-Para who was involved in the capture of Goose Green during the Falklands conflict has rejoined the military as a RAF paramedic and has just returned from his first deployment to Afghanistan.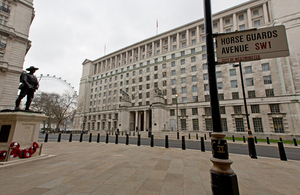 Corporal Simeon 'Tommo' Tomlinson joined the Parachute Regiment in April 1982 and immediately deployed with the 2nd Battalion (2 PARA) as part of the Falkland Islands Task Force.
Making his way into Goose Green with a mountain of kit on his back, he was unaware that he was to experience some of the fiercest fighting of the conflict. He said:
It was hard graft, basic soldiering where we had two platoons forward in a long line abreast, and just advanced on the trenches, then waited until you came under contact, went to ground, took the trenches out and moved on.
After taking Goose Green, 2 PARA regrouped and prepared to advance on Stanley. Cpl Tomlinson explained that the most important thing was to keep themselves and their kit serviceable:
I think the guys out here [Afghanistan] will appreciate that when you are living in such conditions you constantly have to keep on top of your kit, your weapon and yourself. The actual fighting is quite a small element in the run of things.
The Chinook 'Bravo November' repositioned Cpl Tomlinson as part of B Company across Choiseul Sound before they all made their way to their next objective, Wireless Ridge. He explained:
It wasn't the intensity of Goose Green and we were quite fortunate in as much as the other units had a harder time on the ridges.
Speaking of the mine threat, he said:
To be honest we weren't aware of them until we were in a minefield and that's not a very pleasant feeling. Fortunately we got away with it most of the time.
Cpl Tomlinson left the Paras in 1985, married Sue, and spent 17 years in computer systems development before deciding on a new challenge. He said:
There was more to life. I'm one of these people who has to push things and do different things.
In 2003 he applied through the East Anglian Ambulance Trust and trained to become a paramedic. However, it was his fellow paramedic Jim Davies who discovered that 4626 Royal Auxiliary Air Force Squadron at RAF Lyneham was actively recruiting paramedics to deploy to Afghanistan in the Medical Emergency Response Team (MERT) role.
The motivation for joining 4626 Squadron was Cpl Tomlinson's experience serving with the Paras:
The truth is you sit at home and you see the grieving parents," he said. "Knowing how my parents felt when I was at the sharp end, and now being a parent myself, it hit home. The fact is I have a skill set and I genuinely wanted to help, this motivated me to join, I thought that hopefully I could contribute something.
To prepare for his first deployment to Afghanistan Cpl Tomlinson completed a number of specialist medical courses, carried out helicopter escape drills and attended both the Battlefield Advanced Trauma Life Support and the Survive, Evade, Resist, Extract courses before completing his immediate readiness training at RAF Honington.
Speaking about his current job which sees him flying to treat casualties as part of a MERT, operating from a RAF Chinook helicopter, he said:
The rewarding aspect is being part of this whole team which starts with the blokes on the ground and ends up with the casualty being back in the UK within about 24 hours; you can't beat that. It is a fantastic system and the guys on the ground deserve it.
UK forces are deployed to Afghanistan in support of the International Security Assistance Force. The troops on the ground are helping to provide security for the people of Afghanistan whether it be through training and mentoring the Afghan National Security Forces or as part of the reconstruction effort.
Without the crucial support of the medical personnel throughout the care pathway, particularly the essential role that the MERT plays, this would not be possible.
Cpl Tomlinson said:
I think the British forces medical care is something that we can be extremely proud of. The MERT is only a tiny element of the process, the way the aircrew operate to get us into these places, the force protection guys that look after us, people should be really proud of these efforts.
Published 15 October 2010