News story
Faith Minister Baroness Warsi's message for Vaisakhi
Baroness Warsi offers her best wishes to all those celebrating Vaisakhi.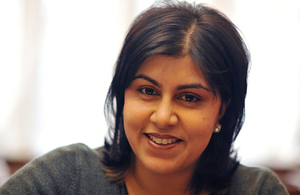 Baroness Warsi said:
I'd like to offer my best wishes to all in the UK and across the world who are celebrating Vaisakhi.

This festival is a time for family and friends to come together and to celebrate the anniversary of when Guru Gobind Singh founded the Khalsa.

This year has a particularly special meaning as it marks the 160th anniversary of the first Sikh - Maharaja Duleep Singh - arriving in this country in 1854.

The Sikh community, and all faith groups, make an outstanding contribution to our neighbourhoods, selflessly volunteering hours of their time to make a difference – building stronger and more united communities in the process.

The contribution of faith groups is especially significant in the year in which we mark the centenary of the First World War. Thousands from the Commonwealth fought in the British Indian Army, the sacrifices made by the Sikh regiments a Neuve Chapellle and the Dogra Sikhs who fought so bravely at Ypres, enable us to benefit from the freedoms we enjoy today.

However and wherever you are celebrating this festival, I hope that you enjoy this special time and I'd like to wish you all a very happy Vaisakhi.
Published 13 April 2014