Fairness finally restored to the Housing Benefit system as new rules come into force
New Housing Benefit rules come into force bringing fairness back to the Local Housing Allowance system and cutting the Housing Benefit bill.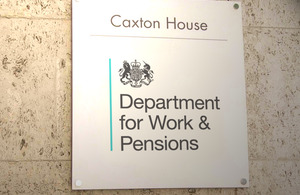 New Housing Benefit rules come into force today bringing fairness back to the Local Housing Allowance system and cutting the cost of the Housing Benefit bill which has been rising continuously for a decade.
From today the Coalition Government will cap Housing Benefits for private sector tenants from a staggering £104,000 in some cases to an absolute maximum of £20,800 a year for a four bedroom property.
The reforms will help put an end to the rapid growth seen in private sector rents and will lead to fewer people being put off work because they fear losing their generous housing benefits.
Iain Duncan Smith, Secretary of State for Work and Pensions said:
The failure to reform Housing Benefit has left us in the absurd situation where some benefit claimants could claim over £100,000 a year to live in large houses in expensive areas. This is unacceptable when hard working individuals and families are struggling either to find affordable private rents or pay their mortgages.

Even after the reforms, Housing Benefit will be able to meet rents of £20,800 a year so there is no reason why anyone should be left without a home. With a massive deficit, tough choices have to be made - but we have pushed ahead with these changes in record time to bring fairness back to the system so that hard working families no longer have to subsidise people living in properties they themselves could not afford.

Our Discretionary Housing Payment Fund will provide a safety net for those who need it, with an additional £190m being invested over four years to smooth the transition.
The measures coming into force today apply to new claimants. Existing claimants will be protected at their Local Housing Allowance rate for up to nine months from the date their claim is reviewed by their local authority. This will allow claimants time to adjust to any reduction in Housing Benefit entitlement and in practice means many existing claimants will not be affected until after January 2012.
And to help implement the changes Ministers have temporarily extended the discretion of local authorities to make direct payments to landlords in return for lowering their rents to affordable levels - aimed at allowing more claimants being able to secure new tenancies or stay in their existing homes and that landlord's will maintain a stable and reliable income. 
The full measures coming into force today are:
There will no longer be a five bedroom Local Housing Allowance rate. Weekly Local Housing rates will not exceed £250 for a one bedroom property; £290 for a two bedroom property; £340 for a three bedroom property; £400 for a four bedroom property.
The £15 excess will be removed as soon as the Local Authority reviews a claim.  Claimants will no longer be able to pocket any excess money after their rent is paid. 
Non-dependants living in households of Housing Benefit claimants will see their deduction increases take effect from April 2011.
Disabled people with a long-term health condition who need overnight care or live with someone with similar needs, may now be able to claim Housing Benefit for a private rented property which has an additional bedroom for a non-resident carer.
Notes to editors:
The Housing Benefit measures that come into force in 2011 should result in over £1 bn of savings by 2013/14.
Housing Benefit is going to cost £21.6bn this year, without reform this will increase to £24bn by 2014/15.
Over the last ten years, expenditure has roughly doubled in cash terms from £11bn to £21.6 bn this year.
This is an increase of nearly 50% in real terms, from £15bn to £21.6bn in today's prices.
Over £3bn of spending in 2009/10 can be attributed to growth in private sector rents since 1999.
Growth in both social sector and private rents is the main driver and can account for 90% of the rise in cash terms or two thirds in real terms.
Private sector Housing Benefit awards and private sector HB rents tend to exceed growth in average earnings and private sector rents in the market as a whole (as measured by the CLG index), even before the introduction of the Local Housing Allowance.
Since 2000, private sector Housing Benefit awards have grown by between 70% and 80%, while average earnings have grown by only 30% to 40%
Published 1 April 2011