Fair trade: UK helps Africa's farmers reap rewards of trade
Britain is working with big business to help more suppliers to get their products onto the supermarket shelves of the UK and Europe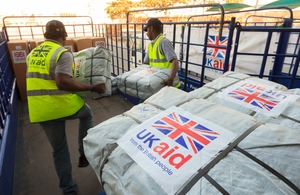 Britain is working with big business to help Africa's farmers get more of their products onto the supermarket shelves of the UK and Europe.
New grants from The Food Retail Industry Challenge Fund (FRICH) will help British businesses like Sainsbury's and Taylors of Harrogate to work with African suppliers trading in ethical goods such as tea, coffee and flowers.
It means more African farmers will reap the financial rewards of global trade, helping them to work their way out of poverty, Justine Greening said today.
Sainsbury's and its project partners have been working with FRICH since 2009 to bring Congolese and Malawian coffee from smallholder farmer co-operatives to its shelves.
The new funding will see activities in the Democratic Republic of Congo (DRC) extended to even more farmers, helping them to improve coffee quality and gain access to more markets.
In Kenya, flower farmers will also benefit from support to reduce water usage, develop new export crops for small farmers and improve women workers' health education.
International Development Secretary Justine Greening said:
By helping African communities to support themselves in the long-term, they will be able to break their dependence on aid.

I am delighted that successful British businesses, such as Sainsbury's, The Eden Project, and Taylors of Harrogate are helping African farmers and suppliers thrive - this scheme is good for businesses moving into new markets, and good for Africa.
Sainsbury's Group Commercial Director Mike Coupe said:
We are pleased to have already achieved so much for farmers in Africa, in collaboration with our project partners and the support of FRICH. We work closely with all our suppliers in the UK and overseas and these projects enable Sainsbury's to provide African farmers with support and training to help them build their capacity as well as a direct route to international markets. We also know that our customers value the range and quality of products we are able to offer from these farming communities.

By working with our partners, Twin, Finlays and Superflora, to deliver these projects it's also enabling us to achieve one of our own targets as part of Sainsbury's 20 by 20 Sustainability Plan, to continue supporting producers in order to build sustainable businesses and secure futures for themselves and their families.
Before Sainsbury's and its partners started working with the SOPACDI coffee cooperative in the DRC, the coffee produced in this area could not be processed easily.
Farmers often resorted to smuggling the coffee out of the country or sold it to middle men who paid as little as 20% of the market price. With the help of the FRICH-sponsored project, farmer training has improved coffee production.
Taylors of Harrogate - producers of the Yorkshire Tea brand - have recently completed a project in Rwanda, supported by FRICH, with the aim of improving the quality of both the tea being produced and the lives of those producing it.
Sustainability Manager at Taylors of Harrogate Simon Hotchkin said:
We have been buying Rwandan tea for over 30 years now, as at its best it has a unique liveliness and refreshing character that you just can't find anywhere else in the world. Our objective was to increase our support of the rejuvenation of the Rwandan tea industry by helping to raise standards of agronomy, production and social welfare.

By working in partnership with the Rainforest Alliance and Rwandan tea producers, we have provided training on sustainable agricultural practices for over 10, 000 smallholder farmers. The training helped growers to improve water conservation, promote best practice in waste management and focus on improving annual tea yields, as well as improving environmental and working conditions in three factories.

Following the success of our work in Rwanda, we will soon be embarking on two new projects supported by FRICH, working with Rwandan and Ugandan coffee growers and tea farmers in Burundi.
The British Government has placed a priority on the role of the private sector in international development, both in terms of UK firms operating in the poorest nations and businesses already based in developing countries.
The new projects announced today will focus on a diverse range of products including tea, cocoa, peri-peri, beef, passion fruit, peanuts, sweet potato, baobab fruit, palm oil, melons, sweetcorn, flowers, coffee, salad onions and radish. You can find more information on all the new and previous products at: https://www.gov.uk/food-retail-industry-challenge-fund-frich.
Published 24 October 2012