News story
"Fair funding, sensible savings and bill freeze is the right road for councils" says Eric Pickles
New style local settlement to reward striving councils with more income.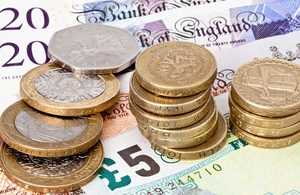 Local Government Secretary Eric Pickles spelled out 50 sensible savings, a Council Tax freeze and a fair funding deal as the "right road" for councils to protect residents and local services, as a major shake up of local finance was initiated today.
The minister signalled the watershed moment for councils as he unveiled a new look local government finance settlement that will reward councils that strive to improve their communities.
A dramatic shift in spending power from Whitehall to the town hall means an estimated 70% of council income will now be raised locally compared to 56% under the centrally distributed 'begging-bowl' formula grant system.
From April 2013 councils can channel this greater local control into encouraging local jobs and local firms via a new business rate retention incentive that rewards them for growth. It could potentially add £10 billion to the economy by 2020.
However, councils account for a quarter of all public spending - with English councils still spending £114 billion - so it is vital they continue to play their part tackling the inherited budget deficit by making sensible savings.
To help councils in that regard a document containing 50 practical ways to make sensible savings was published today. It shows how a culture change by councils can unearth significantly more taxpayer savings and help make services more efficient.
Local Government Secretary Eric Pickles said:
"Councils must keep doing their bit to tackle the inherited budget deficit because they account for a quarter of all public spending and still get through over £114 billion of taxpayers money each year.
"Today's announcement is a fair funding deal that will reward councils ready to strive for their communities and gives them another year to get their house in order.
"Councils must do 3 things to get on the right road for their residents: put our fair funding deal to work; do every single one of our 50 ways to save; and accept our Council Tax freeze offer. Councils that cry wolf without having done all of this are letting their residents down.
"Councils that put their thinking caps on now can save precious taxpayer pennies next year by cutting out waste and transforming frontline services that vulnerable people rely on."
Today's fair funding deal arms councils with an average spending power of £2,240 per household. Local authorities have been protected from further spending reductions for 2013 to 2014. Overall the average spending power reduction for councils in 2013 to 2014 is expected to be limited to just 1.7% per household, less than last year's comparable figure of 3.3%.
Ministers believe this important concession gives councils the time they need to transform service delivery, build up their local business rate income, improve procurement and comprehensively complete the suggested 50 savings.
The total start-up funding assessment for councils 2013 to 2014 apportions £26 billion in a fair and sustainable way that ensures the smallest reductions for the councils most reliant on government support. More weighting has been given to areas with the highest levels of assessed need. For example, Newcastle has a spending power per household of £2,522 which is over £700 more than the £1,814 per household in Wokingham.
The government is setting aside an extra £450 million over the next 2 years to help local government in England to freeze their Council Tax, equivalent to a 1% rise. A third year's combined Council Tax freeze is potentially worth over £200 to band D residents.
The government confirmed today that where a council rejects the freeze, the majority will have to secure electoral agreement through a 'local tax lock' referendum to hike band D bills by more than 2%. Smaller authorities with a track record of low Council Tax will be given slightly more flexibility.
Further information
The '50 ways to save' include:
sharing back offices
adopting Community Budgets to bring staff and money together
using transparency to cut waste
clamping down on corporate charge cards
setting special spending controls
tackling the £2 billion of local fraud
utilising £16 billion of non-school reserves creatively
improve collection rates to reduce the £2.4 billion of uncollected Council Tax across England
encourage direct debit and e-billing
improve property management
close subsidised council canteens
reducing senior pay and posts
cut spending on consultants and agency staff which had risen to £4.5 billion
stop translating documents into foreign languages
cut expensive travel
reduce printing costs
hire out the town hall
See the guide for the full list.
On Thursday 20 December 2012, the day after the provisional Local Government Finance Settlement, Local Government Minister Brandon Lewis MP hosted a teleconference call for local authorities and fire & rescue services, fielding more than 25 questions from 200 callers. You can listen to the call here.
The 2013 to 2014 spending power calculation includes:
£26.07 billion start up funding assessment (which includes £10.9 billion of locally retained business rates)
£23.9 billion in Council Tax
£859 million for NHS funding to support social care
£661 million via New Homes Bonus
£240 million for 2013 to 2014 Council Tax freeze grant
In addition local authorities will also benefit from:
£112 million via the Weekly Collection Support Scheme
£33.5 million via New Burdens for Council Tax Support in 2013 to 2014
Spending power:
No authority will see a spending power reduction of more than 8.8% because of decisions taken by ministers to make an efficiency support grant available. The 'per household' figures are calculated using total spending power a combination of the new start up funding assessment and Council Tax, and the number of dwellings by Council Tax band for each administrative area in England. The counts are calculated from data for England extracted from the Valuation Office Agency's database on 12 September 2011.
A plain English guide to cut through Whitehall jargon and explain the new settlement system is also available.
There will now be a period of statutory consultation on the settlement which runs to 15 January 2013. Ministers will then finalise their proposals and the settlement for 2013 to 2014 will be debated in Parliament in February in time for councils to set their budgets for next year.
The Coalition Agreement committed the government to relinquishing control over excessive Council Tax increases and giving that democratic power directly to local communities. This was legislated for through the Localism Act. The government has today published the Council Tax principles it is proposing for 2013 to 2014. Council Tax increases would trigger a referendum, if they exceed:
2% for most principal authorities; or
£5 (which ever is higher) in the case of shire district councils, police and crime commissioners and fire and rescue authorities that set the lowest quartile of Council Tax in their class
The final principles for 2013 to 2014 will be set out in a report for the approval of the House of Commons early next year, at the same time as the final report on the local government finance settlement. No equivalent principles are being proposed for town and parish councils for 2013 to 2014, although they may in future years.
Technical data for the 2013-14 Local Government Finance Settlement can be found on the Local Government Finance site.
Fire and rescue authorities have been protected with savings back loaded to allow time for sensible savings; they have also benefited from the protection to local government in 2013 to 2014. In addition the outgoing Chief Fire and Rescue Adviser, Sir Ken Knight, has been asked to carry out a review to pinpoint ways to help fire and rescue authorities save money. The government intends to announce the breakdown of £140 million of capital grant money to fire and rescue authorities. The money for 2013 to 2015 will be distributed by a combination of formula and for projects to fire and rescue authorities that have been successful through bidding. All fire and rescue authorities will receive some capital funding.
Published 19 December 2012
Last updated 24 December 2012
+ show all updates
Added link to teleconference.
Link to settlement added.
This news article was converted to a news story