Factors affecting safety-critical human performance
Class investigation into factors affecting safety-critical human performance in signalling operations on the national network.
This news article was withdrawn on
This item has been moved to the National Archives as RAIB has published its class investigation. See report 03/2020.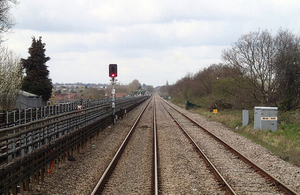 The RAIB has investigated numerous incidents in which the decisions of front-line workers have been pivotal to the outcome, and where the safety of the railway system has been entirely dependent on those decisions (ie scenarios in which there were no engineered safeguards). Many of these situations involve the decisions of signallers; for instance, in arranging line blockages or responding to users at user worked crossings. Moreover, the RAIB is aware of several more similar incidents which, although not reaching the criteria for a full RAIB investigation, highlight the vulnerable nature of such decision-making.
In the light of these incidents, we have decided to undertake a class investigation into the factors affecting those decisions.
Fundamental to the investigation is the recognition that such decisions are never taken in isolation, but may be influenced by a variety of factors associated with the person, the task, the equipment, the environment or the organisation. The purpose of the class investigation is to identify these factors and to determine what actions may be appropriate to address them. As well as aiming to improve safety, this investigation will also inform the RAIB's own work when dealing with such incidents in future.
The RAIB's investigation will:
establish the nature of the task(s) in question and the extent of the concerns under investigation
where appropriate, draw comparisons between operations on the national network and those of other UK railways
understand common factors influencing the actions of the people involved, under both normal and out-of-course conditions
for each of those factors, review the arrangements for managing risk
consider the impact of recent and ongoing developments in working arrangements (such as more centralised network control)
explore any further underlying organisational or external factors
make recommendations, at a systems level, to improve safety
Our investigation is independent of any investigation by the railway industry or by the industry's regulator, the Office of Rail and Road.
We will publish our findings, including any recommendations to improve safety, at the conclusion of our investigation. This report will be available on our website.
You can subscribe to automated emails notifying you when we publish our reports.
Published 24 January 2019