Extraordinary UKaid response for flood stricken Punjab and Sindh
Speaking in Parliament yesterday, Development Secretary Andrew Mitchell said "The floods in Pakistan are extraordinary; and demand an extraordinary response"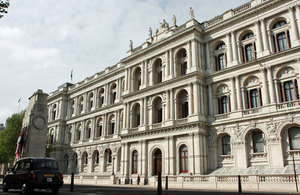 The UK will intensify efforts this week in critically affected south Pakistan to help avert the risk of a public health crisis, including providing urgently needed clean drinking water and sanitation for hundreds of thousands of people, the UK International Development Secretary Andrew Mitchell announced in UK Parliament today.
This week the UK Government will:
Start emergency production lines in factories in Lahore and Karachi, to produce 2,155 hygiene kits per day and 5,300 water containers per day for two weeks. Trucks will leave the factories as soon as they are full to distribute the urgently needed items to people in Punjab and Sindh, to help stop the spread of water-borne diseases.
Help set up an emergency field operations and coordination base camp in the middle of the worst flood affected area near Sukkur, in south Pakistan, to house up to 72 relief workers, from a range of agencies including the UN and NGOs, with the International Humanitarian Partnership.
Charter three more flights into Pakistan. The flights from Nairobi, Beijing, and the East Midlands will be packed with vital aid, including water tanks large enough to supply entire villages plus:
134,818 water containers (jerry cans and buckets) for families to store clean water;
34 million water purification tablets making 340 million litres of safe drinking water;
3,016 shelter kits providing protection from the elements for more than 3,000 families;
12,525 blankets;
4,510 sets of basic cooking utensils. Speaking in the UK House of Commons today, International Development Secretary Andrew Mitchell said:
"The floods in Pakistan are extraordinary; and demand an extraordinary response. That's why we are taking these inventive approaches to set up an emergency production line and scouring the globe to fly in such huge quantities of urgently needed items.
"Some parts of southern Pakistan are still under four feet of water, which won't drain away for some time due to heavy clay in the soil. Unless people can access safe water and sanitation there is a real threat of a public health disaster from waterborne diseases."
The new supplies from the flights and the production lines will be distributed by Save the Children, IOM, UNICEF, and other relief agencies. The latest contribution comes to about £2.5 million (approx 330 million rupees) out of the £64 million (approx 8.5 billion rupees) already committed by the UK Government in response to the flood crisis in Pakistan.
The monsoon floods in Pakistan, which began almost six weeks ago, have affected a reported 18 million people, and millions forced from their homes by rising waters.
The UK was one of the first countries to respond to this crisis. The UK Government has committed £64 million (approx 8.5 billion rupees) to help people in Pakistan affected by the floods, while the UK public has donated a further £47 million (approx 6.2 billion rupees) out of their own pockets to the Disasters Emergency Committee (DEC). This will help millions of people in Pakistan access safe drinking water, toilets, emergency shelter, health care, and other essentials.
A summary of the UK Government's contributions to date can be viewed here:
www.dfid.gov.uk/Media-Room/News-Stories/2010/Floods-in-Pakistan/
People can track where and how UK aid is helping the survivors of floods in Pakistan here: www.dfid.gov.uk/pakistanfloodsmonitor2010
Published 8 September 2010