Extradition review begins
An independent panel will review the UK's legal arrangements for bringing criminals to justice who flee overseas after committing a crime.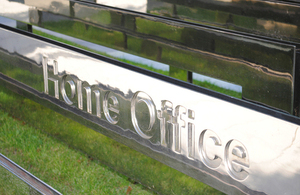 The arrangements - known as extradition - allow countries to make formal requests to each other for the return of suspects to stand trial for a crime in the same country it was committed.
Committed to in the coalition's 'Programme for Government', the review aims to make sure that the UK's legal arrangements work efficiently and fairly.
Five key areas
The panel will look at the following five areas:
the Home Secretary's powers to stop extradition
the operation of the European Arrest Warrant, which deals with extradition requests between European countries
where a crime is mainly committed in the UK, whether the person should be tried here
whether the US-UK Extradition Treaty is unbalanced
whether requesting countries should be required to provide sufficient evidence to prove an allegation
Interests of justice
Theresa May said: 'I am fully aware that there are a number of areas of the UK's extradition arrangements which have attracted controversy in recent years.
'This government is committed to reviewing those arrangements to ensure they work both efficiently and in the interests of justice.'
The panel will be appointed shortly and will be expected to report back by late summer 2011.
Published 7 September 2010