Extra RAF jets being sent to Afghanistan
Two additional Royal Air Force Tornado jets are being sent to Afghanistan, Defence Secretary Dr Liam Fox has announced today while visiting British forces serving in the country.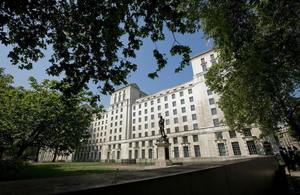 Dr Fox, on his second visit to Afghanistan since being appointed Secretary of State, confirmed that the two Tornado GR4 aircraft have been sent from RAF Lossiemouth in Moray, and are due to arrive at Kandahar Airfield tomorrow, Thursday 12 August 2010.
The deployment follows a request by the Commander of the International Security Assistance Force (ISAF), General David Petraeus, for an increase in air support to provide greater protection for ground forces.
The aircraft will join the eight RAF Tornado GR4s already providing support to the multinational pool and will boost flying hours by 25 per cent, or an extra 130 flying hours per month.
Dr Fox, currently on his way back to the UK, said before leaving Afghanistan:
The deployment of these two extra aircraft is another illustration of the UK Government's commitment to achieving success in operations in Afghanistan. Tornado GR4s provide essential air cover to our Service personnel on the ground and lead the fight against deadly IEDs [improvised explosive devices] from the air.
The intelligence these assets provide to coalition forces will enable commanders to have the eyes in the sky that they need to protect their troops and help increase security for local people.
An increase in the number of ISAF and Afghan National Security Forces (ANSF) personnel on the ground in southern Afghanistan has generated the requirement for additional air cover. The demand for capability provided by the fast jets is also expected to increase in the run-up to the Afghan elections in September 2010.
Following discussions, the Chief of the Defence Staff, Air Chief Marshal Sir Jock Stirrup, and the Defence Secretary have agreed that the extra Tornados will deploy for three months.
Joined on the visit by the Chief of Joint Operations, Air Marshal Sir Stuart Peach, the Defence Secretary also visited forward operating bases as well as units based at Camp Bastion and Kandahar Airfield.
They saw first-hand the training of ANSF, which is ahead of schedule and represents the key to enabling British forces to eventually leave Afghanistan.
The latest encouraging figures show that the training of Afghan forces is making excellent progress. Already, 134,000 Afghan soldiers and 106,000 Afghan police have been trained, putting ISAF ahead of schedule for achieving its target of 171,000 fully-trained soldiers and 134,000 police by the end of 2011.
The Afghan National Army has recently planned and executed two major operations in the Gereshk area - Operation OMID DO and Operation OMID SEY - which have proved their ability to mount major activity with minimal ISAF involvement. See Related News.
The Defence Secretary also met the next generation of Afghan National Police during a visit to the recently-established Helmand Police Training School, where raw recruits are turned into fully-trained policemen ready for work. The school has just turned out its 1,000th recruit.
Dr Fox added:
The presence of British forces in Afghanistan is an absolute national security imperative, but, as both the Prime Minister and I have said, we do not wish to see our troops remain in the country a moment longer than necessary.
The key to bringing our personnel home is achieving a situation where Afghanistan's own army and police are fit to take over the security responsibilities we currently perform. This visit has demonstrated to me, beyond any doubt, that this process is well on track.
We have seen, with operations such as OMID DO and OMID SEY, that the Afghan National Army is rapidly developing a formidable capability to plan and execute major security operations.
What our servicemen and women have achieved in bringing their Afghan partners up to such a level of skill is outstanding. Now we have to work with our Afghan partners to broaden their skills even further to create a truly high quality security force.
Similarly, I am full of praise for those members of the Afghan National Police, and those in training, who I have had the pleasure of meeting. They believe in the future of their country and are prepared to stand up and be counted by playing a key role in their society.
As part of the visit's busy schedule, there was also time to see the impact that other new equipment is delivering to the front line, including the new fleet of Lynx Mk9A helicopters that deployed to the country in May 2010.
The helicopters, with their increased firepower, more powerful engines and the ability to operate all year in the harsh 'hot and high' Afghan environment, have increased the total number of flying hours available to commanders.
Published 11 August 2010