Press release
Export opportunities top agri-food Business Advisory Group agenda
Representatives from Northern Ireland's £5 billion agriculture and food sector met at Moy Park today for a Business Advisory Group meeting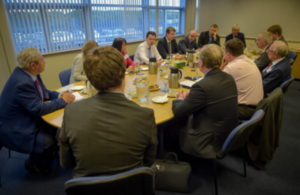 Agri-food firms and industry representatives joined the Secretary of State's Business Advisory Group's core members for a discussion focused on how the sector's world class performance in recent years can be protected and expanded.
Also joining the meeting was Minister for Exiting the EU Robin Walker, whose first visit to Northern Ireland since being appointed follows Secretary of State for Exiting the EU David Davis's visit last month.
Secretary of State for Northern Ireland James Brokenshire said:
Northern Ireland's food and drink sector makes a vital contribution to economic life both here and the wider UK, sustaining tens of thousands of jobs and livelihoods.
The UK government is focussed on securing continued growth across the whole UK economy and forging new international trading links. We see Northern Ireland's food and agriculture sector having an important role in this.
It was immensely valuable to hear about the sector's particular challenges today. I noted the opportunities we will want to grasp as well, working alongside the Executive, particularly around emerging markets and a growing worldwide demand for Northern Ireland's excellent agricultural and food products.
Secretary of State for Northern Ireland James Brokenshire talking about this morning's meeting
Minister for Exiting the EU Robin Walker said:
The people of the United Kingdom voted to leave the European Union and it's the duty of the Government to make sure we do just that. The UK is a great country with a bright future and Northern Ireland plays a huge part in its success.
We're confident of getting a good deal for the whole country, but to do this we need a UK-wide approach as we prepare for negotiations. That's why I'm in Northern Ireland today – to hear from the people, groups and businesses that have helped to build Northern Ireland's success and who will continue to build a brighter, more secure future for the people who live here.
Moy Park Executive Director Mike Mullan said:
We were delighted to welcome Secretary of State James Brokenshire and Minister for Exiting the EU Robin Walker to Moy Park.
The visit offered us the opportunity to discuss our business and the value it brings to the Northern Ireland economy, and we welcome this open dialogue with the Northern Ireland Secretary on the future and value of the agri-food industry.
In the first sector-specific meeting chaired by the Secretary of State since the Business Advisory Group was formed on 1 September, Mr Brokenshire led the discussion towards the most pressing issues for the sector, including:
UK government guarantees for direct CAP payments to farmers until 2020, providing certainty to Northern Ireland's agricultural community;
The importance of cross border trade and the movement of goods and people between Northern Ireland and Ireland; and
Reassurance about protecting the status of Northern Ireland's and the UK's iconic traditional products.
Today's session complements other business engagement meetings undertaken this week by Northern Ireland Office Minister Andrew Dunlop with large and small retailers, professional services and the hospitality and tourism sectors.
Attendees at today's meeting at Moy Park included the Business Advisory Group core members:
Ann McGregor, Chief Executive, NI Chamber of Commerce and Industry
Wilfred Mitchell OBE, Chairman, Federation of Small Businesses
Linda Brown, Director, Institute of Directors NI
Iain Hoy, Senior Policy Advisor, CBI NI
And agri-food sector representatives:
Mike Mullan, Director, Moy Park
Micháel McCoy, Federation of Small Businesses Armagh
Victor Chestnutt, Deputy President of Ulster Farmers Union
Declan Billington, Chair, NI Food & Drink Association
Campbell Tweedie, President of NI Meat Exporters Association
Robin Irvine, Chief Executive of NI Grain Trade Association
Key facts:
5.8 per cent of the total workforce in NI is employed in agriculture, the highest percentage in the UK.
The Northern Ireland food and drink industry is the leading sector in the Northern Ireland economy, employing 100,000 people and generating £2 billion in wages. The sales value of food produced is estimated at around £5 billion this year with at least £3.5 billion of that coming from export markets (NIFDA).
Northern Ireland Food and Drink produce is recognised amongst the very best in the United Kingdom. In the great Taste Awards in 2011 Northern Ireland producers won 160 gold stars, in 2015 200.
Published 6 October 2016