Export bar to save £11m Bellotto painting
Culture Minister steps in to prevent painting of Königstein fortress from export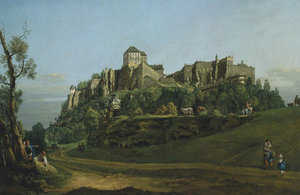 Culture Minister Matt Hancock has placed a temporary export bar on a painting by Bernardo Bellotto to keep it in the country.
The painting of the Fortress of Königstein is at risk of being exported from the UK unless a buyer can be found to match the asking price of £11 million.
A nephew and pupil of the celebrated artist Canaletto, Bellotto's early works are very close in style to those of his master. In 1747 he moved to Dresden at the invitation of King Augustus III of Poland where he developed his own distinctive vision of landscape.
This painting is one of a set of five large-scale views of Königstein, a hill-top fortress near Dresden, commissioned by Augustus III. Bellotto began working in spring 1756 but his pictures were never delivered to Augustus as the artist and his family were forced to flee when war broke out.
All five paintings ended up in Britain, where at least two are recorded from the 1770s.
Culture Minister Matt Hancock said:
This magnificent painting showcases Bellotto's immense skill and technique at one of the most important phases of his career. There is more we can learn about both the artist and the subject from this painting. As one of the finest examples of its kind I hope the funds can be raised so it remains in the UK.
The decision to defer the export licence follows a recommendation by the Reviewing Committee on the Export of Works of Art and Objects of Cultural Interest (RCEWA), administered by The Arts Council.
The RCEWA made its recommendation on the grounds that its departure from the UK would be a misfortune because it was of outstanding aesthetic importance and because of its outstanding significance for the study of Bellotto and the representation of European dynastic strength, military might and enlightened rule.
RCEWA member Aidan Weston-Lewis said:
The large views Bellotto painted in Dresden and the surrounding area are amongst the most original and impressive of all eighteenth-century European landscape paintings. This monumental depiction of the historic fortress of Königstein rising dramatically from the rocky outcrop on which it is built is the most important of his mature works remaining in the UK, and its departure overseas would be very regrettable.
The decision on the export licence application for the painting will be deferred until 17 February 2017. This may be extended until 17 August 2017 if a serious intention to raise funds to purchase it is made at the recommended price of £11,000,000.
Organisations or individuals interested in purchasing the painting should contact the RCEWA on 0845 300 6200.
Images of the painting can be downloaded here.
ENDS
For media information contact:
Rebecca Evans
Senior Communications Officer
Department for Culture Media and Sport
Tel: 0207 211 6513
Email: rebecca.evans@culture.gov.uk

Notes to editors
1.Organisations or individuals interested in purchasing the painting should contact the RCEWA on 0845 300 6200.
Details of the painting are as follows: The Fortress of Königstein, from the North Bernardo Bellotto (1722-1780) Oil on canvas, 52 x 93 inches (132 x 236 cm)

The Reviewing Committee on the Export of Works of Art and Objects of Cultural Interest is an independent body, serviced by The Arts Council, advises the Secretary of State for Culture, Media and Sport on whether a cultural object, intended for export, is of national importance under specified criteria.

The Arts Council champions, develops and invests in artistic and cultural experiences that enrich people's lives. It supports a range of activities across the arts, museums and libraries – from theatre to digital art, reading to dance, music to literature, and crafts to collections. www.artscouncil.org.uk
Published 18 November 2016